A Very Monkey Christmas on PBS
Category:
Television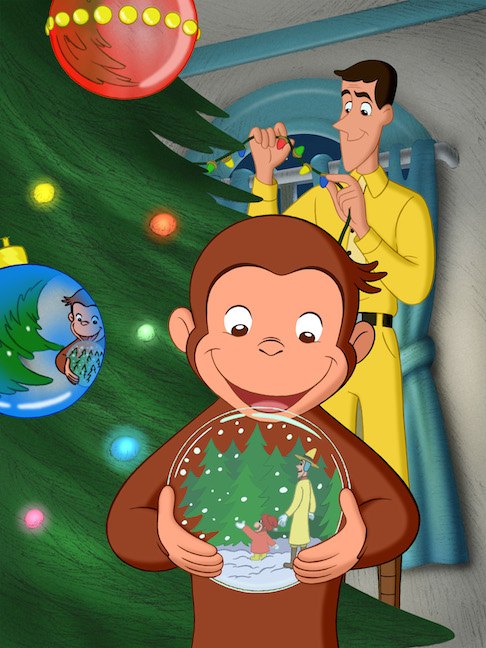 Curious George stars in his own Christmas movie, along with the Man in the Yellow Hat, Hundley, and all the gang from the popular PBS series. Curious George: A Very Monkey Christmas was produced in 2009, and is an annual viewing event in many households at this time of year.
This is definitely a feel good little film, with George and the man counting down the last twelve days until Christmas. The loveable furry fellow is anxious for the big day, and as they wait for the day to come all the preparations must be taken care of.
First they have to find a Christmas tree. George and the man travel to the country to pick their special tree. There, George manages to cause some monkey mayhem, and in the end they bring home a most unusual tree, although to George it is perfect.
Other preparations must be complete before Christmas, including getting and making presents. This is the rub. The man cannot decipher George's drawing of what he wants for Christmas, and George cannot think of something special the man would love for the holiday. So, while they prepare for the festivities, they both ponder what in the world they will do about presents.
With shades of It's a Wonderful Life, the man sees what George's life would be like without him. In the end, they both know they really do belong together.
Plenty of fun songs add to the enjoyment of this sweet little story, including a Christmas monkey song. I'll bet you never heard a Christmas song about a monkey before!
George is a loveable furry little guy and his Christmas movie is filled with joy for the entire family, and plenty of monkey business.
Curious George: A Very Monkey Christmas airs during November and December on PBS. Check you listings for dates and times.
About the Author
Francine Brokaw has been covering all aspects of the entertainment business for 20 years. She also writes about technology and has been a travel writer for the past 12 years. She has been published in national and international newspapers and magazines as well as internet websites. She has written her own book, Beyond the Red Carpet The World of Entertainment Journalists, from Sourced Media Books.
Follow her on Twitter
Like her on Facebook