About Time Combo Pack
Category:
Blu-ray's and DVD's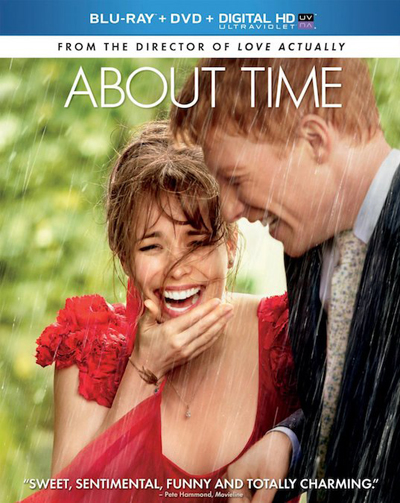 Domhnall Gleeson and Rachel McAdams star in this story of love and devotion. From the director of Love Actually (2003), a film that won rave reviews by critics and audiences worldwide, About Time is a different love story because of the characters' abilities to travel in time.
At the age of 21, Tim's father (Bill Nighy) informs him that the men in their family can travel in time. They cannot go into the future, but they can go back and experience things again and again, although this gift comes with a price. While they are able to change their lives, what also happens is that by altering their lives, they also alter others' in the process.
Tim (Gleeson) decides to use this gift to get a girlfriend, as hokey as that might seem. When he does meet a girl, circumstances in other parts of his life implore him to alter things which then change his meeting Mary (McAdams) so he has to go back in time again and change other things in order for him to meet this woman. Tim repeatedly relives his days in order to affect the outcome he desires.
What he later discovers is that even though he has the best intentions when he relives and consequently alters circumstances, some things are meant to be the way they originally were. Changing bad things that happen to his loved ones also affects the others in his life.
The whole idea of time travel is intriguing. It would be nice, for instance, to relive a time with someone who has died. It also would be great to relive some wonderful moments in ones life. And think about changing something you've said to someone that you wish you could take back. Well, Tim has that ability, and he uses it to the fullest.
About Time is an emotional story filled with charm as well as sentimentality, but ultimately leaves viewers with a sense of hope and a feeling of contentment. It will also have people thinking about things in their own pasts they would like to change. Bonus features on this Blu-ray + DVD + Ultraviolet combo pack include a not-so-funny blooper reel, music video, and deleted scenes. The Blu-ray disc has additional bonuses, which look closer into the film and the subject of time travel. There is a lot to think about when it comes to changing one's past. It also changes one's present.
About Time is rated R for language and some sexual content.
About the Author
Francine Brokaw has been covering all aspects of the entertainment business for 20 years. She also writes about technology and has been a travel writer for the past 12 years. She has been published in national and international newspapers and magazines as well as Internet websites. She has written her own book, Beyond the Red Carpet: The World of Entertainment Journalists, from Sourced Media Books.
Follow her on Twitter
Like her on Facebook