April Love on Blu-Ray
Category:
Blu-ray's and DVD's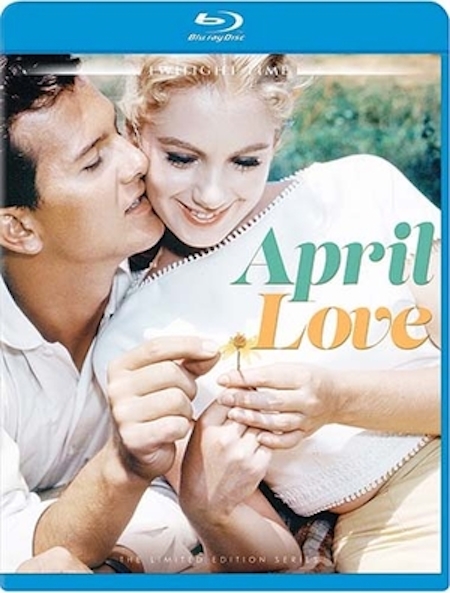 Twilight Time's limited Blu-Ray edition of April Love is a blast from the past. Actually, it's not really a dated story. It could be set in today's world instead of 1957 when it was produced.
The film puts two fresh-faced stars together: Shirley Jones who had previously starred in the musicals Oklahoma and Carousel, and Pat Boone who makes his starring big screen debut. Shirley is country girl Liz Templeton who is a bit of a tomboy. She falls for Nick Conover (Boone), the nephew of her neighbor Jed Bruce (Arthur O'Connell). Nick had gotten into some trouble in Chicago and the court ordered him to spend time in the country to get away from the bad influences he was surrounded by in the city. Reluctantly, Nick agreed to go to the farm.
Nick has no idea about country life or horses. Liz loves horses and loves to race her father's horses. Her sincerity rubs off on Nick who learns to help out around the farm and eventually help his uncle with the one racehorse he has left.
What started as a disgruntled old man who only agreed to take in the boy as a favor to his wife and a discouraged young man, turns into basically a sustaining father/son relationship between Nick and Jed. And all the while Liz has her eye on the boy, even though she thinks he is lusting over her sister Fran.
There are plenty of songs throughout the film. With this cast there has to be. The movie was nominated for an Academy Award for Best Original Score. The title song, "April Love", became a trademark for Pat Boone's singing career. The movie basically launched his acting and singing careers and he went on to more films and television roles, not to mention a popular singing career, which his daughter Debby followed.
Shirley Jones was already a popular star in musicals and she soon followed up with the 1962 film The Music Man, after winning an Academy Award in 1961 for her role in Elmer Gantry.
The harness racing is fun to watch and provides an interesting backdrop to this story of growing up, responsibility, and love. The ending is what will put a smile on everyone's face. The little twist at the end is worth the entire movie.
April Love is a fun little film and something that will appeal to all ages. According to the lyrics of the title song, "April love is for the very young." The movie is not rated yet there is nothing in here that would be objectionable for anyone – young or old. The movie was filmed on location in Kentucky and is simply a fun, good-hearted musical.
About the Author
Francine Brokaw has been covering all aspects of the entertainment business for 20 years. She also writes about technology and has been a travel writer for the past 12 years. She has been published in national and international newspapers and magazines as well as internet websites. She has written her own book, Beyond the Red Carpet The World of Entertainment Journalists, from Sourced Media Books.
Follow her on Twitter
Like her on Facebook