Austenland on Blu-ray and DVD
Category:
Blu-ray's and DVD's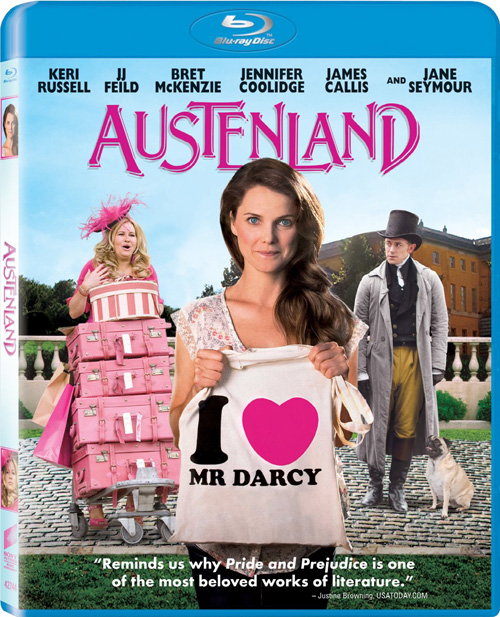 Based on the book of the same name, Austenland is a film that is filled with fun characters, comedy, and charm. Even if you aren't familiar with Jane Austen and her book Pride and Prejudice, you can still find the fun in this film.
The story follows Jane Hayes, a woman who has not had good luck with men. She is looking for her "Mr. Darcy," the romantic male hero of the Austen novel. Jane is immersed in the life and times of Austen and has decorated her tiny little apartment in all things Jane Austen, complete with a life size cardboard image of Colin Firth who played Mr. Darcy in the 1995 BBC adaptation of the novel.
Jane decides to blow her entire savings on a trip to Austenland in England, where she is assured to have a life changing moment. Austenland engages the guests who enter the world of Jane Austen, with actors playing the parts of people of Austen's era. The women who go to Austenland are all looking for a connection with a man. They all want to meet a man who meets their expectations. But the men in Austenland are all actors paid to do just that. So, the man of their dreams is fleeting; he only exists while the guests are at Austenland.
Jane is befriended by one of the two other guests, Miss Elizabeth Charming (Jennifer Coolidge), who has paid for the expensive package and is outfitted in the best dresses and given a beautiful suite. Jane, on the other hand, could only afford the less expensive package and is outfitted with dowdy dresses and given a less desirable room. But she doesn't mind. She is too excited to be in Austenland and surrounded by the beauty of the mansion and the landscape.
The third guest is at the resort is played by Georgia King, and the owner of Austenland is played by Jane Seymour who does her best to make everything in Austenland as close to the Regency Era as possible, even banning cell phones from the guests.
There are not many bonus features on the disc, however. There is a Question and Answer feature with the cast who discuss their work and the film. Keri Russell describes it at "a sweet, funny movie." And Jane Seymour admits to buying a house in Bath and periodically dressing up in period clothes, and even buying some first edition Jane Austen novels. From this bonus, viewers get a personal experience with the cast.
This is a delightfully charming film, with a fun story, a lot of laughs, and yes, romance. Just where does fantasy meet reality? Find out in Austenland.
About the Author
Francine Brokaw has been covering all aspects of the entertainment business for 20 years. She also writes about technology and has been a travel writer for the past 12 years. She has been published in national and international newspapers and magazines as well as Internet websites. She has written her own book, Beyond the Red Carpet: The World of Entertainment Journalists, from Sourced Media Books.
Follow her on Twitter
Like her on Facebook