'Baby Boom' on Blu-ray from Twilight Time
Category:
Blu-ray's and DVD's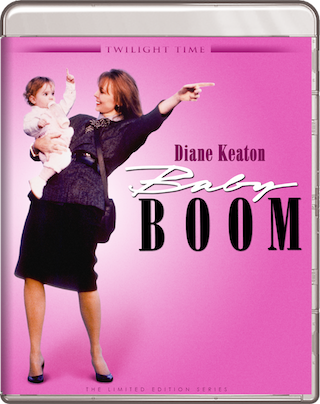 Diane Keaton stars in this adorable rom-com about a high-powered executive who suddenly inherits a baby. Baby Boom is a fun film filled with plenty of adorable moments as J.C. Wiatt (Keaton) maneuvers the executive ladder as "The Tiger Lady" but gets sidetracked by the arrival of her orphaned baby cousin Elizabeth. This is the quintessential story about getting lemons and making lemonade.
After the news that she is going to make partner in her advertising firm, she also gets the news that her cousin and his wife were killed, leaving her something in their will. When she discovers it is a baby girl, she simply cannot fit that into her executive life. But her mothering instincts kick in and she decides to keep the little girl. Unfortunately, mothering and her job don't fit together.
J.C. takes Elizabeth and moves from the big apple to a country estate in Vermont filled with apple trees, among other fruit. This should be a nice experience for them – relaxing on their farm and kicking back in the fresh country air. But the farmhouse is riddled with problems. Soon J.C. is going into debt to pay for all the repairs on the property. How is she going to sell the place and get back to New York?
Instead of spending her days in the boardroom, J.C. spends her time making homemade baby food for Elizabeth. Then out of the blue she discovers a market for the products. Soon "Country Baby" is a big seller, bringing in profits for J.C., her company, and helping the people of the town.
Besides building her company and taking care of the baby, J.C. meets the local veterinarian, Dr. Cooper (Sam Shepard) and although they start off on the wrong foot, or hoof, the attraction between them is strong.
James Spader plays Ken Arrenberg, a young man in the advertising firm looking to make his own mark on the business and climb the corporate ladder. He wangles his way into forcing J.C. out of her biggest client and taking over the account himself. Sam Wanamaker plays J.C.'s boss Fritz Curtis who tells her she cannot have it all. She has to choose.
J.C. proves them wrong. She can have it all. She can have a career as well as be a good parent to Elizabeth. And, she even has a love life.
This 1987 comedy was nominated for several awards and even inspired a short-lived TV series. But nothing could take the place of the original in which Keaton turns in a priceless performance. And viewers will definitely fall in love with little Elizabeth.
This Blu-ray is a limited edition of 3000 from Twilight Time. Baby Boom is rated PG.
About the Author
Francine Brokaw has been covering all aspects of the entertainment industry for over 20 years. She also writes about products and travel. She has been published in national and international newspapers and magazines as well as Internet websites. She has written her own book, Beyond the Red Carpet The World of Entertainment Journalists, from Sourced Media Books.
Follow her on Twitter