'Blue and Red Make Purple' Book/CD GIVEAWAY
Category:
Giveaways

With The Secret Mountain books with CDs kids learn about music with the entertaining books and CDs together.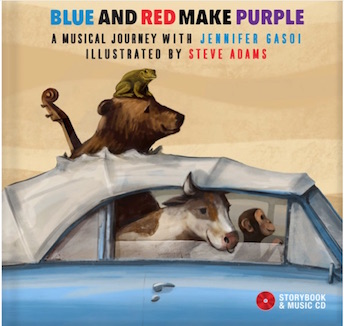 This new book with CD offers young listeners a musical journey through the different colors of Jennifer Gasoi's multi-layered and playful music. The colorful picture book, featuring original illustrations by Steve Adams, highlights the history, instruments and unique characteristics of each musical genre along with listening suggestions accompanying each song. Along the way, Gasoi offers readers a chance to create their own sounds, and discover more about the songwriting process itself. Full lyrics are also included in this delightful music-forward title.
The accompanying CD features 12 original songs that meld styles ranging from bluegrass to Dixieland swing, folk to calypso to Cajun and klezmer.
Featured is Gasoi's GRAMMY Award winning hit "Throw a Penny in the Wishing Well," and traveling tunes like "Little Blue Car" and "Goin' on a Trip," all of them with a positive message underscored in "Bright Side of Life." Gasoi hopes that readers will be inspired to "express themselves, tap into their own mastery, and embrace their unique gifts."
We have some copies of this book/CD combination to giveaway.
To be eligible to win a copy of Blue and Red Make Purple, email us at [email protected] with "Blue and Red Giveaway" in the title. Please supply your name, address, phone number and email address (so we can let you know if you are a winner).
The deadline for this giveaway is October 17, 2016.