Bring home 'Lu Over the Wall'
Category:
Blu-ray's and DVD's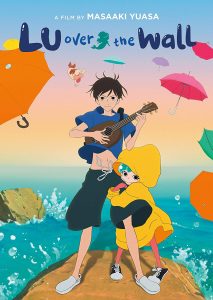 Lu Over the Wallis a sweet animated film that has shades of The Little Mermaidas well as Splash. This 2018 Japanese film has many cute scenes as well as several that will have viewers reaching for their tissues.
Kai is a morose middle school student whose mother left the family years ago. He is getting to the time in school when he must decide where he wants to go for high school, but Kai is only interested in his music. Everything changes for him as well as the entire town when little Lu, an adorable mermaid, enters his life.
Kai spends all his time writing songs and is asked by his classmates to join their band. The music attracts a young mermaid, Lu, to them. Her fins turn into legs and feet with the music and she loves to dance. Music is the connection between Kai and Lu, but Lu cannot be seen in the sunlight or she will burn up. She has to be completely shaded.
The folks in the little fishing village believe merpeople will eat them up. They have no understanding of these different creatures and are afraid of them. But Kai knows Lu and her family and friends will not harm anyone. As a matter of fact, when Lu encounters animals at the shelter who do not have anyone to love them and are stuck in cages, she turns them into meranimals and they are now able to play and frolic in the ocean.
All Lu wants is to be friends with everyone. She loves everyone. And as Kai and Lu's friendship deepens, so does their bond and Kai is able to tell Lu about his life, family, and his desires. She is the one "person" to whom he can confide everything.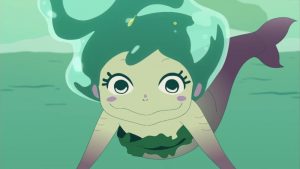 Soon a near fatal catastrophe comes to thevillage and the villagers blame Lu and the merpeople. Lu is captured and put in a cage. Her smile doesn't waver. She still wants everyone to be her friends. Can Kai and his bandmates free Lu and save the town?
Once free from the cage, Lu, her father, and all the merpeople and meranimals come to the rescue of the village. Lu is a special little mermaid that will definitely touch the hearts of all viewers.
With fun toe-tapping music and a sensitive story, Lu Over the Wallhas some interesting characters, especially little Lu. The movie is rated PG for some peril and thematic elements. It is available on DVD and on Blu-ray.
About the Author
Francine Brokaw has been covering all aspects of the entertainment industry for over 25 years. She also writes about products and travel. She has been published in national and international newspapers and magazines as well as Internet websites. She has written her own book, Beyond the Red Carpet The World of Entertainment Journalists, from Sourced Media Books, is the entertainment correspondent for Good Day Orange County, and has her own TV show, Beyond the Red Carpet, on Village Television in Orange County.
Follow her on Twitter