Bring home 'Smallfoot'
Category:
Blu-ray's and DVD's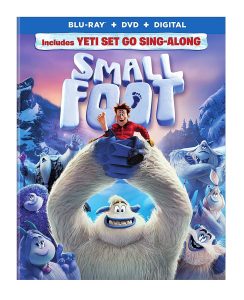 The musical animated film Smallfoot is a fun twist on a legend. Do humans really exist? That's the question for a village of yetis.
The story is set in the Himalayans where way up on top of a mountain above the clouds is a village of yetis. They live by a strict code where everything is written in stone – literally. Their laws and code of conduct are all on stones kept by the Stone Keeper. Everyone has his/her own job to do.
Migo is a fun-loving yeti whose father is the gong ringer. Every morning he is catapulted through the air to ring the gong, which brings up the sun. Migo is next in line for that job and looking forward to taking over for his father.
When Migo accidentally falls down through the clouds, he discovers a small foot, aka human. According to the stones, small foots don't exist. Migo sets out to prove he is not crazy.
While searching for his little friend, Migo is joined by a group of other yetis who also believe in Small Foots. They must do this secretly because, well, the stones are the laws and if a stone says they don't exist then they don't exits. And if they prove that that stone is wrong, what about all the other stones? What is really going on?
The story is about understanding and accepting. It's about learning to get along. Are humans afraid of yetis or are yetis afraid of humans? Or are they all willing and able to be accepting?
Migo is voiced by Channing Tatum. James Corden, Zendaya, Common, Danny DeVito, LeBron James, and Gina Rodriguez are some of the others lending their voices to the many characters in this sweet movie. As Migo is attempting to prove that humans really do exist, the human Percy is attempting to prove that yetis really do exist. The friendship formed between these two is heartening.
With plenty of songs to go along with the cute story, the Blu-ray combo includes two versions of the film. There is the theatrical version and the "Yeti Set Go Sing-Along" version. Whichever version you select, the movie is fun for the whole family. There are a few bonus features including a mini movie with the cutest little yeti toddler Soozie, a look at the making of the film.
Smallfoot is rated PG for some action, rude humor, and thematic elements.
About the Author
Francine Brokaw has been covering all aspects of the entertainment industry for over 25 years. She also writes about products and travel. She has been published in national and international newspapers and magazines as well as Internet websites. She has written her own book, Beyond the Red Carpet The World of Entertainment Journalists, from Sourced Media Books, is the entertainment correspondent for Good Day Orange County, and has her own TV show, Beyond the Red Carpet, on Village Television in Orange County.
Follow her on Twitter