Cinderella Waltzes onto the Big Screen – along with some Frozen Fun
Category:
Movies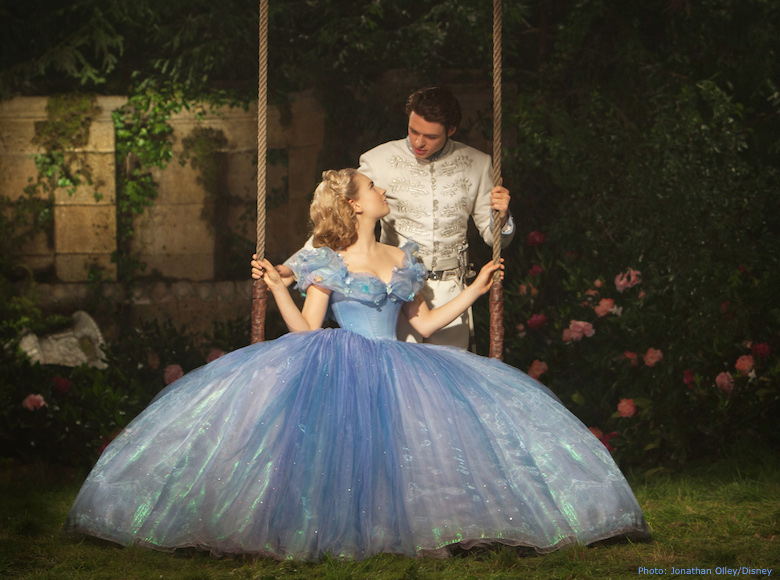 Disney's 1950 classic animated feature film Cinderella has been beloved by generations. Now, in another incarnation, this new live-action film of the adored tale will wow audiences with its splendor. It is a cliché to say this movie is enchanting, yet that is exactly what it is.
This is the story of Ella (Lily James), who has grown up in a loving family but her mother passes away while she is still a young girl. Her father adores her however after several years he wants a second chance at happiness. Ella's stepmother (Cate Blanchett) brings her two self-centered daughters Drizella (Sophie McShera) and Anastasia (Holliday Grainger) to live with Ella and her father at their country home. Yet it isn't long before Ella's father also dies and she is left alone with the three women who reduce her to being their servant in her own home.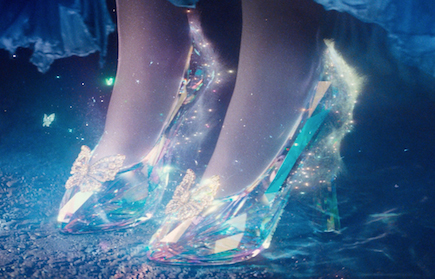 Before she dies, Ella's mother told her to "have courage and be kind" which is exactly how the young girl handles her life. It is, however, quite challenging for her at times when she is relegated to cleaning and caring for her stepfamily while living alone in the attic. Well, that's not entirely true. She is not alone. Her companions are a group of mice she has befriended.
One day while riding her horse, she meets a young man. This man is in reality the prince (Richard Madden). The attraction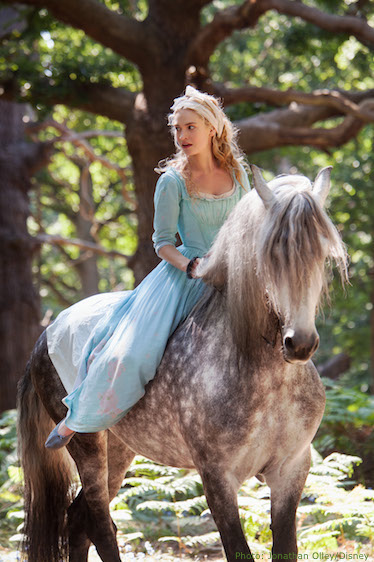 between them is quite strong. When the king gives a ball to find a wife for his son, Ella, who has been called "Cinder-Ella" by her stepfamily because she is always dirty, wants to attend along with the others however her stepmother does not allow her to go.
We all know the story of the Fairy Godmother (Helena Bonham Carter) who appears and transforms the pumpkin, mice, and Cinderella for the evening. The transformation is the most magical and delightful scene, combining humor and charm.
The 1950 film is one of the "10 Greatest Animated Films of all Time," according to the American Film Industry. Transforming a beloved animated film into a beautiful live-action movie might seem like a difficult task, yet the filmmakers have done a splendid job of doing just that. The costume design is deserving of awards. Cinderella's ball gown and her wedding dress are extraordinary. And the glass slipper is amazing. It was created by Swarovski and features a beautiful butterfly on the top. The blue ball gown is adorned with butterflies as well. The gown was made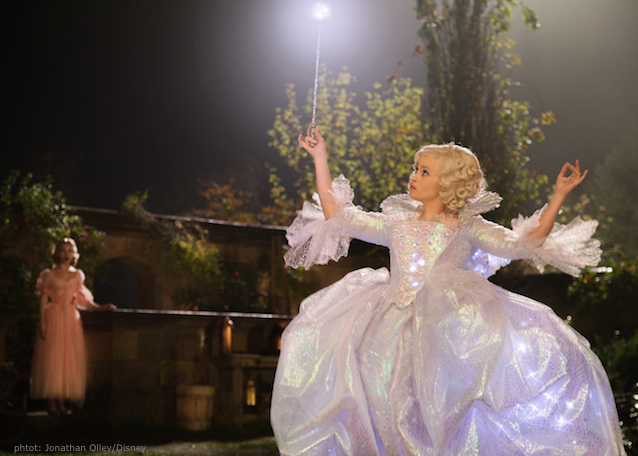 from over 270 yards of fabric with over 10,000 Swarovski crystals. Watch it as it flows when Ella dances. If Disney wants to give any of the nine copies away, I'll be glad to take one!
Audiences will be rooting for Ella the entire time. While the stepsisters in the animated film are ugly and quite zany, the live-action versions are not as character-ish. They are simply not nice girls. Prince Charming is relatable as a man and a prince. All the characters are quite convincing in their roles.
There have been so many movies and plays based on the Cinderella story. Each one has a specific quality and tone. Charming, enchanting, and delightful are all words to describe this new version of the beloved fairy tale. Cinderella is rated PG for mild thematic elements.
Frozen Fever is a Pure Delight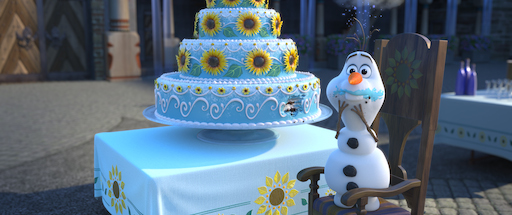 Before the highly anticipated movie Cinderella is shown, audiences are treated to the highly anticipated short featuring the beloved characters from Frozen. Disney's Frozen Fever is a brief yet adorable little snippet of a day in the life of Elsa, Anna, Kristoff, Olaf, and Sven.
It's Anna's birthday and for the first time in forever, well, actually for the first time in a long time, Elsa and Anna are celebrating together. Elsa, Kristoff, Olaf, and Sven have been planning a surprise party for the young princess, complete with a cake (which Olaf is eager to sample), a sign (made with love by Kristoff), and plenty of birthday fun. The one thing they didn't anticipate was Elsa coming down with a cold.
Adding some new baby characters to the cast, Frozen Fever is filled with all the fun without any of the catastrophes of the feature film. Well, unless you consider Olaf taking a chomp out of the cake a catastrophe.
Audiences have been clamoring for more of Frozen and while this is just a short, it is a lot of frozen fun. Plus, there is a new song to sing. It's only seven minutes, but they are seven fun minutes.
About the Author
Francine Brokaw has been covering all aspects of the entertainment business for 20 years. She also writes about technology and has been a travel writer for the past 12 years. She has been published in national and international newspapers and magazines as well as internet websites. She has written her own book, Beyond the Red Carpet The World of Entertainment Journalists, from Sourced Media Books.
Follow her on Twitter
Like her on Facebook