Death Comes to Pemberley on Masterpiece Mystery
Category:
Television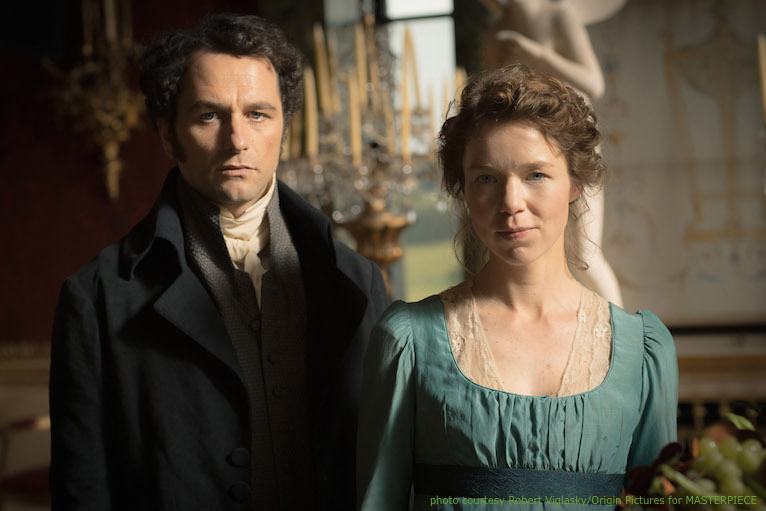 Jane Austen is a beloved author whose novels and characters have stood the test of time. There have been several feature films recently acknowledging Austen's effects on society, namely The Jane Austen Book Club (2007) and Austenland (2013). Even the 1998 film You've Got Mail paid homage to the novel Pride and Prejudice, as Meg Ryan's character was so taken with that story and claims to read it every year. What is it about Austen's characters that resonate in readers? Only Jane Austen fans can answer that. But you don't have to be an Austen fan to enjoy the newest homage to the great novelist, although Austen fans will certainly be more appreciative of the characters. Death Comes to Pemberley is a two-part series on PBS' Masterpiece Mystery and will capture the hearts and minds of viewers from the first scene.
The story was penned by PD James as a continuation of Austen's famed novel Pride and Prejudice. Austen lived from 1775-1817, and PD (Phyllis Dorthea) James was born in 1920, and wrote Death Comes to Pemberley in 2011, quite a long time after Pride and Prejudice, which was first published in 1813. But James knew readers were hungry for more of the beloved Elizabeth Bennett and Mr. Darcy.
This film stars Anna Maxwell Martin as Elizabeth Bennett Darcy and Matthew Rhys as Fitzwilliam Darcy. Matthew Goode takes the role of George Wickham, Jenna Coleman is Lydia Bennett Wickham, Eleanor Tomlinson is Georgiana Darcy, and Tom Ward is Colonel Fitzwilliam. And, if you are familiar with Pride and Prejudice, there are Bidwells and other characters in this film that had a place in the novel. This movie takes place six years after the end of Pride and Prejudice. For all you Austen lovers who have longed to find out what happened to Elizabeth Bennett and Mr. Darcy, this is the story you've been waiting for.
Elizabeth and Darcy have a young energetic son and the family is preparing Pemberley for their big ball. But on the eve of the event a tragedy occurs. Lydia Wickham appears and is distraught. She claims her husband is dead. So, Darcy and several men go out looking for the man. What they find is that Wickham is very much alive but his friend, Captain Denny (Tom Canton), is dead. All the clues lead back to Wickham and he is put on trial for the murder.
During the story bits and pieces of the original novel appear, so those viewers who have not read it or have forgotten some elements will be filled in. And, if you feel more comfortable checking out a synopsis of Pride and Prejudice online before watching this movie, that's perfectly fine but not necessary.
The characters and story are addicting. To be honest, I watched the entire three hours in one afternoon. I couldn't stop. I was mesmerized by the entire film. The relationships between the characters are interesting and the outcome of the murder trial is intense. Because Wickham is married to Darcy's sister-in-law, he is considered Darcy's brother, so having a murderer in the family would taint the reputation of the Darcy's. And what about Georgiana Darcy? Her heart belongs to someone other than the man whom Darcy would like her betrothed. Elizabeth wants Georgiana to marry for love, not money and status, but can she convince her husband?
The film is filled with all the intensity and enjoyment of the Austen novels. The characters are just as they were on the pages. This is truly a film that will be beloved by fans of Austen and fans of period pieces.
Death Comes to Pemberley premiers Sunday, October 26, 2014 on PBS, with the finale premiering November 2, 2014.
About the Author
Francine Brokaw has been covering all aspects of the entertainment business for 20 years. She also writes about technology and has been a travel writer for the past 12 years. She has been published in national and international newspapers and magazines as well as internet websites. She has written her own book, Beyond the Red Carpet The World of Entertainment Journalists, from Sourced Media Books.
Follow her on Twitter
Like her on Facebook