'Diana: Queen of Hearts' on DVD
Category:
Blu-ray's and DVD's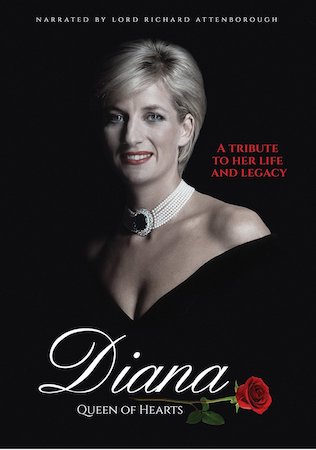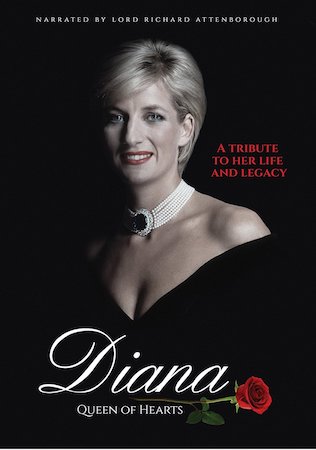 Diana: Queen of Hearts is a love story to the late princess. With archival footage as well as interviews with those who knew her, crossed paths with her and were effected by her kindness, this documentary puts together a well-rounded look at the woman who mesmerized the world.
Her friend Lord Richard Attenborough presents this tribute. He knew Princess Diana well and recounts many times when they were together, and the touching last phone conversation between them just before she was killed in that horrific accident in Paris.
The documentary does not delve into the dark side of her life and marriage, but does point out her husband's relationship with Camilla as the reason she was so upset in her marriage. And one confidant explains that she felt Diana's bulimia began when Charles mentioned to the young woman that she was a bit chubby. Anyone who knows anything about teenage girls/women is that you should never talk about their weight. It is a lasting thing that digs at their heart and self-confidence for years to come.
Diana's employer Mary Robertson, who hired the young woman to be a nanny to her son, recounts incidents with Diana. She also takes viewers through the romance between Charles and Diana and discusses how truly in love she was with Charles.
This documentary does not reveal anything new about the princess nor does it intend to show the dark side of her life. Instead, it is an upbeat film about how much Diana cared about people and wanted to use her life to help others. This is the story of a woman who was thought of as being a high fashion plate, but in her heart all she wanted to do was to help others in her own way. And that is evident by how fondly those who knew her remember her.
In this time when many royal films are coming out and when the world is focusing on the royals with Diana's third grandchild coming next month and the upcoming wedding of her youngest son, it is perhaps a good time to reflect of the life of Diana, Princess of Wales.
About the Author
Francine Brokaw has been covering all aspects of the entertainment industry for over 20 years. She also writes about products and travel. She has been published in national and international newspapers and magazines as well as Internet websites. She has written her own book, Beyond the Red Carpet The World of Entertainment Journalists, from Sourced Media Books.
Follow her on Twitter