'Dorothy and the Wizard of Oz: Emerald City – Season One Volume two DVD GIVEAWAY
Category:
Giveaways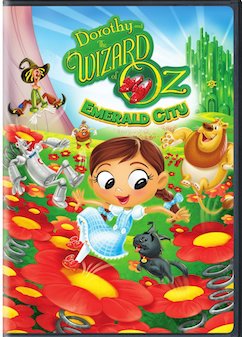 After the Wicked Witch of the West's defeat, Queen Ozma has appointed Dorothy the Princess of Emerald City. With her feet firmly grounded in her ruby slippers, Dorothy tackles her royal duties with enthusiasm, bravery and farm girl feistiness. And whether it's magic, munchkins, flying monkeys or her arch-nemesis Wilhelmina, the wicked witch-in-training and niece of the Wicked Witch of the West, Dorothy is ready to track down and put a stop to any problem that comes Oz's way. Packed with memorable melodies and iconic Oz imagery, Dorothy and the Wizard of Oz is also sure to delight fans of the original books and the classic film The Wizard of Oz.
Close your eyes and click your heels together three times for more animated adventures featuring Dorothy, the plucky Kansas farm girl and her adorable dog Toto, as they star in 10 delightful episodes featured on this entertaining, new release.
We have some DVDs to giveaway.
To be eligible to win a copy of Dorothy and the Wizard of Oz: Emerald City – Season 1 Volume 2, email us at [email protected] with "Dorothy OZ Giveaway" in the title. Please supply your name, address, phone number and email address (so we can let you know if you are a winner).
The deadline for this giveaway is June 10, 2018.