'Dot.' Premiers on Sprout
Category:
Television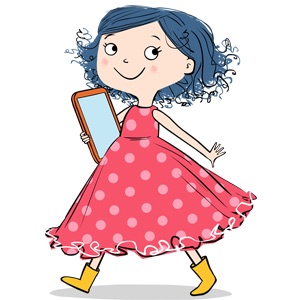 Randi Zuckerberg, a New York Times best-selling author, is bringing her popular stories to Sprout network. Dot. is an animated series following a tech-savvy eight-year-old girl. This curious little child uses technology to learn about the real world. The series is associated with the Jim Henson Company that has brought countless children's shows to the small screen.
"I would say Dot. was based on almost a decade of observations and research working in the tech world," Zuckerberg explained to the media. "I didn't set out to write a children's book. I was writing Dot Complicated, which was my business book at the time, and I was spending so much time out on the road, speaking with parents, and no matter what I would get on stage and talk about related to tech and business, everyone afterward wanted to talk to me about their children, about their 2 to 5 year olds and how tech savvy children are. So I thought, 'Oh, my gosh, I need to write a book about modern childhood because I'm sitting here, writing a book about being a tech expert, I'm going to get lapped by my 2 year old.'"
Let's face it, technology is part of our lives and our children are growing up in a fast-paced, quickly evolving tech world. Just how much time kids spend on tech gadgets often presents a problem for parents. "Every family needs to make their own decision about what's best for them, what they feel comfortable with [with] tech [items]," stated Zuckerberg. "It's different. Everyone has different comfort zones with it. But I think the reality is that modern children, they're in it. The train has left the station with children and tech, so how can we get inside the beautiful world that they're seeing and try to capture that in a way that works for our families?"
The author and executive producer of the show said, "On one hand, tech/life balance should skew so far towards life for children. On the other hand, you don't want children to not have access to those tech tools and be behind their peers, especially girls. That's why with Dot – it was so important to me that this be a girl character, because we lose girls in STEM and math and science at 7, 8 years old, exactly the age Dot is."
Dot is a girl with tech smarts and a curious imagination. What she discovers on her tablet and computer becomes part of her world and the learning begins, not only for her but also for the viewers. The goal of this show is to make technology the foundation on which learning is built.
"I would love for this to be the next American Girl doll experience, except instead of walking to the store and having tea, you're building robots and making things and doing cool stuff," said Zuckerberg. "We're dreaming big with Dot."
Dot. premiers October 22, 2016 on Sprout.
About the Author
Francine Brokaw has been covering all aspects of the entertainment industry for over 20 years. She also writes about products and travel. She has been published in national and international newspapers and magazines as well as Internet websites. She has written her own book, Beyond the Red Carpet The World of Entertainment Journalists, from Sourced Media Books.
Follow her on Twitter