'DREAM BIG' on IMAX
Category:
Movies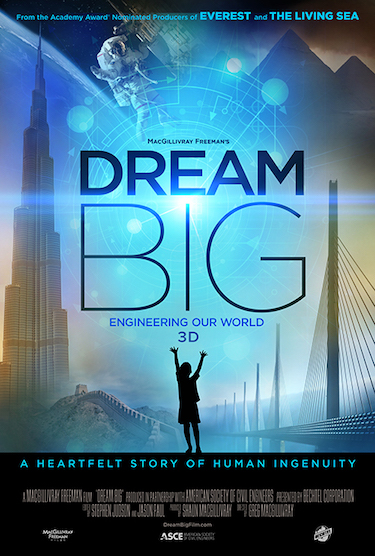 Academy Award winning actor Jeff Bridges narrates this extraordinary IMAX film highlighting the importance of engineers around the world. "I am a believer in encouraging our youth to make a difference in the world, and DREAM BIG 3D encourages young people to do just that," explained Bridges.
The film draws on the STEM initiative that is used in many children's TV series. STEM (science, technology, engineering, math) is a way for kids to understand how solving everyday problems with these fundamental areas of learning can change the world.
In the TV sitcom The Big Bang Theory, the character of Howard Wolowitz is often ridiculed by his fellow character, Sheldon Cooper, for being "just" an engineer, however as viewers know, it is Wolowitz that solves many of the problems and creates substantial things for his friends. And among the physicist on the show, he is the one that went into space. Sure, this is fiction, however viewers see that engineers are an integral element in life, as viewers of DREAM BIG also discover.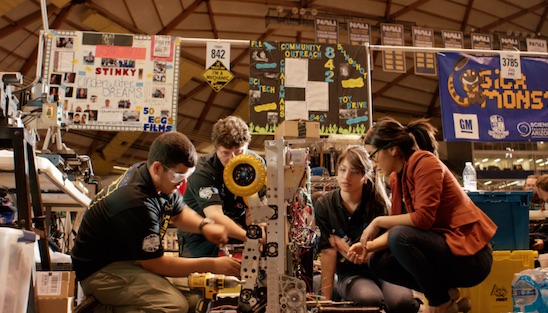 "For the past two decades, people have been itching for a popular film about STEM," says director Greg MacGillivray. "Teachers, museums and parents are looking for ways to get kids not just exposed to but also really turned on by science and engineering. So we wanted to see if we could bring something new to that effort with an entertaining, visually spectacular film full of stirring human stories, one that energizes kids of all kinds, including girls and minorities, to think about engineering as something that might be an exciting thing to do with their lives and their way to make a mark on the world."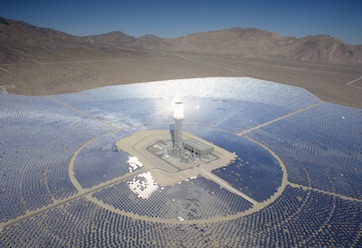 Engineering can be fun and satisfying, especially when world problems are being solved. One of the stories in this film highlights an engineer that went to Haiti to build a footbridge across a dangerous river so people could go to the other side without drowning, which they often did. Crossing the river was the only way kids could get to school, so once the bridge was complete their daily journey was safer and definitely dryer.
There are several other stories highlighted in the film, which brings the projects to the audience in an entertaining way. With the increase in population, buildings are going up higher and higher. But how can they build them safely? That was an interesting dilemma for the folks in Shanghai. But with the help of engineers, they managed to build a skyscraper that would withstand winds and keep the occupants safe, even on the highest floors.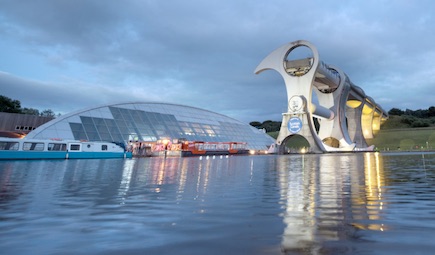 Finding ways to make things is what engineers do. A fascinating fact about the Great Wall of China is that the strongest parts that have survived all these centuries were built using sticky rice in the mortar. And high school students discovered using tampons could help their underwater robot perform without leaking.
Whether it's working to make buildings safer, creating solar power more efficiently, transportation issues, and making the world a better place for the every growing population, engineers are the foundation of progress.
Says American Society of Civil Engineers Executive Director Tom Smith, "The challenges engineers are taking on are the big ones: clean water, smart buildings, climate change, creating sustainable cities for tomorrow. And that means there is a pressing need for lots of young people to bring their fresh ideas. We hope many will be inspired when they see how engineering can take you to different places across the globe, from China to Nepal to Seattle."
DREAM BIG is presented in 3D on IMAX screens. To find out the location nearest you, check their website. (In Los Angeles go to the California Science Center.) This is definitely an interesting movie for the entire family. Hopefully it will spark an interest in girls and boys to seek out a fun and fulfilling career in engineering.
The movie opens February 17, 2017.
About the Author
Francine Brokaw has been covering all aspects of the entertainment industry for over 20 years. She also writes about products and travel. She has been published in national and international newspapers and magazines as well as Internet websites. She has written her own book, Beyond the Red Carpet The World of Entertainment Journalists, from Sourced Media Books.
Follow her on Twitter