Elizabeth Hurley Looks to the Disney Princesses for Inspiration for Her New Role
Category:
Television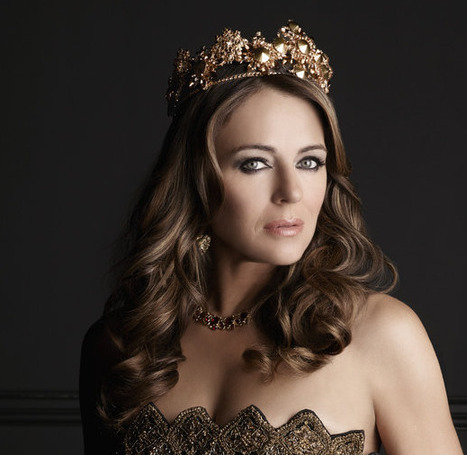 In the upcoming E! series The Royals, Elizabeth Hurley stars as Queen Helena. This is the network's first scripted drama series and Hurley is excited to be part of it along with Joan Collins, who plays her mother.
When she got the role, Hurley thought of how she wanted to play the part of the Queen of England. She originally thought, "what would it have been like if Princess Diana had become Queen of England?" As Hurley explained, "Because I felt she was someone we could identify with more because she's amore similar age group and then her kids would be about the age of these kids now. And so I sort of took some inspiration from her."
But deep down, Elizabeth Hurley looked somewhere different for inspiration. She looked to Walt Disney. "Of course, what we never got to see with Princess Diana really was behind those closed doors, so all that I made up myself." And, as she stated, "Some of it we picked from Cruella de Vil from Disney."
Disney films influences Hurley throughout her childhood. "I think all little girls dream of being princesses," she said referring to the Disney princesses. "And I remember as a child I used to do an awful lot of play acting. Well, I was always a star, normally [a] royal. My little brother would be my pageboy who would have to shuffle behind me carrying whatever I was carrying. So right from then, I've had it in the back of my mind that I'd be a very good queen.
Ms. Hurley admitted she had met some members of the real royal family. "I remember meeting Prince Charles a couple times, because I'm a patron of one of his charities. And I have to say I'm a huge fan of Prince Charles." Hurley is proud of the heir to the throne and acknowledged, "I've always voted him the best dressed man in the United Kingdom, if not the world. His tailoring is impeccable, phenomenal." And no one can say he doesn't have the finances for the best tailors.
"I certainly see the royal family as being kind of in show business. … But certainly, I think the ones I've met do a phenomenal job of being fabulous to their humble subjects such as myself."
In The Royals, Queen Helena is trying to keep up a good reputation and keep her children in line. It might be a little easier for her son Liam, the heir to the throne, than her wild child daughter Eleanor.
With Joan Collins on board, there are plenty of comparisons between The Royals and Collins' series Dynasty. While Collins raises the stratosphere of the cast (she was just upgraded, shall we say, to "Dame" status), Elizabeth Hurley is definitely going to be keeping the series on track. Queen Helena is a bit like Alexis Carrington, of which Elizabeth Hurley says, "I'm kind of delighted by the comparison."
And, before it has even aired one episode, a second season has already been ordered. The network has high hopes for this show. It contains a little bit of everything – love, hate, lust, revenge, rebellious characters, proper characters, some fun and plenty of drama.
The Royals premiers March 15, 2015 on E!
About the Author
Francine Brokaw has been covering all aspects of the entertainment business for 20 years. She also writes about technology and has been a travel writer for the past 12 years. She has been published in national and international newspapers and magazines as well as internet websites. She has written her own book, Beyond the Red Carpet The World of Entertainment Journalists, from Sourced Media Books.
Follow her on Twitter
Like her on Facebook