Flesh and Bone Premiers on Starz
Category:
Television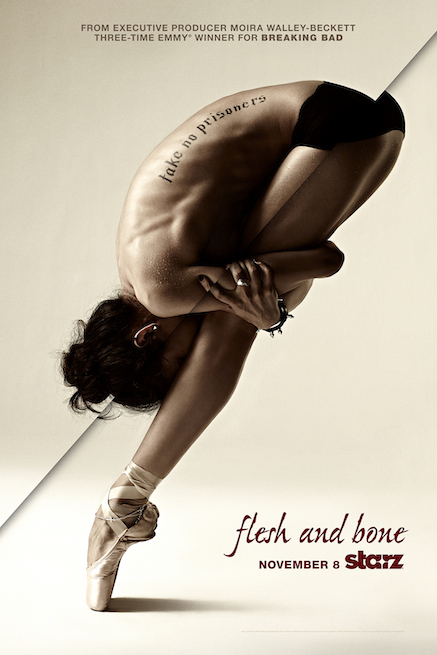 The best show of this season premieres November 8, 2015
When Sarah Hay was approached for the series lead of Starz's Flesh and Bone, she really didn't think she was going to get it. She thought, "Okay. I'll give it a try and see what happens."
Creator Moira Walley-Beckett, three-time Emmy winner, wanted a virtuoso dancer who could act. When she was cast, however, Hay had mixed feelings since her career finally took off in Dresden, Germany. "It was exciting but also very nerve-racking because you can lose your status and your place in the dance world very easily. You are very easily replaced. It's kind of like a chess game for the director, you know."
That's how Flesh and Bone was born. Walley-Beckett, after seven months of exhaustive international search, almost gave up her pet project because she simply couldn't find her Claire. "I didn't want to fake it. I didn't want to have body doubles. I didn't want to have actors who could dance a little." Walley-Beckett was aiming for the most authentic depiction of the underbelly of a ballet company.
So eat your heart out, Natalie Portman! There's a new girl in town. Unlike Portman's Black Swan, Flesh and Bone is a character drama. It follows a brilliantly talented but emotionally damaged ballet dancer, Claire Robbins from Pittsburg, as she joins the dysfunction and harsh splendor of the ballet world.
Although Hay flew right back to Dresden Semperoper Ballet the day after they wrapped, she must be thinking of her future since dancers have limited shelf lives. After the press conference, I asked Hay if she might be following the footsteps of Amanda Schull (12 Monkeys, Suits), who kicked dance at the age of 26. She is well aware of the ballerina-turned-actress Schull and looks up to her as her role model.
Having witnessed her natural yet superb performance unfolding Claire's toughness as well as vulnerability, I shamelessly begged her to give it a go in Hollywood. Yes, she's that good. Her phenomenal debut performance in Flesh and Bone will touch you deeply and leave you wanting more.
Flesh and Bone premiers November 8, 2015.
About the Author
Meg Mimura is a TV critic who actually watches shows zealously in search of human drama worth watching. She is a member of Television Critics Association as well as Academy of Television Arts and Sciences.