Frozen - Disney's Latest and Greatest Animated Film
Category:
Movies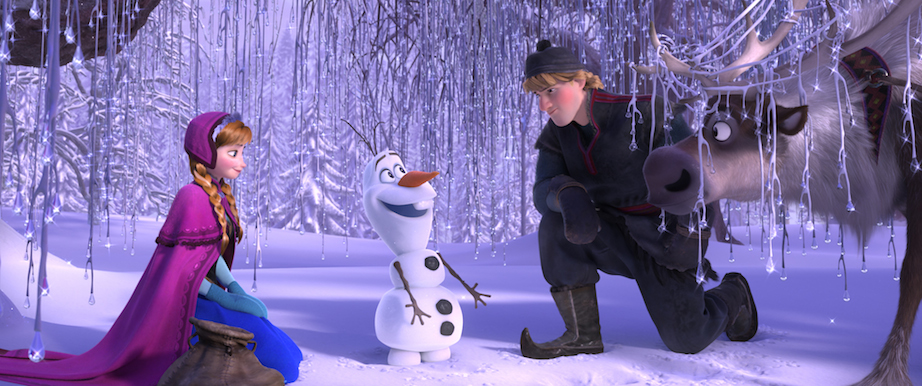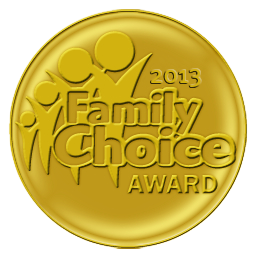 The story of The Snow Queen had been making its way around the halls of the Disney Studio ever since the days of Walt Disney. This is the year the studio finally brought it to fruition. And having seen the completed film, I can say that the wait was well worth it. Frozen is an enchanting animated film that is a treat for the entire family.
Frozen is the story of two sisters – Elsa and Anna. Elsa, the older of the two, has been born with amazing powers but she doesn't know how to control them. She can make snow and ice, and when the girls are young she uses her magic to entertain her sister Anna. Together they enjoy making snowmen and playing in the snow – inside the castle. But after an accident puts Anna's life in danger, the two girls are separated. Elsa does not know how to manage her "gift" so she stays away from her sister for her own safety. Anna has no idea why her sister won't play with her any more. Her memory has been erased.
Flash forward several years and their parents are killed in a storm, leaving Elsa the ruling member of the family. Upon her coronation day, the gates to the castle are opened and the people of the little kingdom of Arendelle finally get to see their new queen and princess. But Elsa's powers take over and she runs away, leaving the kingdom in a deep freeze.
Anna goes looking for her sister. This is the crux of this beautifully animated film. She tracks Elsa to the North Mountain. Elsa's ice palace is stunning, but filled with anger and rage. Elsa finally has the chance to be herself and "let it go" and doesn't hold back. She has been reining in her magic all her life, but now finally realizes how much she can do with it. And, everything so far is not productive, at least for the people of Arendelle.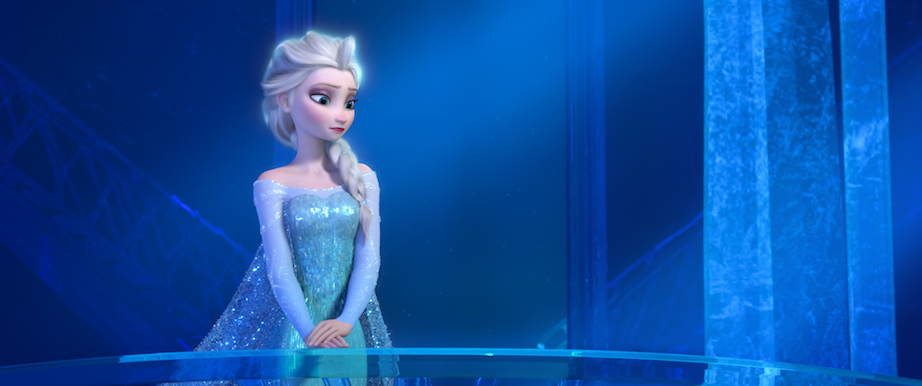 Along the way, Anna meets a cute fellow and his owner. Little Sven is a reindeer with a loving attitude, and Kristoff is his best friend. Kristoff is in the business of delivering ice, but now with the kingdom in a deep freeze, he really doesn't have much to do. Kristoff is an easy-going guy with a heart of gold. Of course, reindeer don't talk (even in this Disney movie) so Kristoff talks for him. These scenes are adorable. The tough mountain man talking to his reindeer and talking back for his reindeer is a new one for Disney.
But even though Sven doesn't talk, the magical snowman Olaf does. Go figure – a talking snowman but not a talking reindeer. Oh well. Sven was made from Elsa's magic so that explains his abilities to talk and walk and play and sing and do almost everything…even melt. Well, almost melt. Olaf provides the comic relief in this story, however much of the great one-liners go to Kristoff, Anna, and even Sven.
Elsa learns fear is her enemy and when she is fearful her power switches to overkill. She is taught to "conceal and don't feel." But love is the key to rein in the forces within her.
Frozen is a beautifully animated movie with stunning graphics and a magical story. It's the story of sisters and sisterly love. The music is memorable as are the characters. Do not miss this enchanting movie. One caveat – be prepared to make some hot chocolate the minute you get home from the theater. Brrrr.
Frozen introduces the newest addition to the Disney Princess Court. Anna is scheduled to have an official Disney coronation next year, making her the 12th behind Snow White, Cinderella, Aurora, Ariel, Belle, Jasmine, Pocahontas, Mulan (although she is technically not a princess), Tiana, Rapunzel, and Merida. The Disney Princess Court is getting larger, but no less endearing.
Frozen is rated PG for some action and mild rude humor. (I would not hesitate to bring a child to this.)
About the Author
Francine Brokaw has been covering all aspects of the entertainment business for 20 years. She also writes about technology and has been a travel writer for the past 12 years. She has been published in national and international newspapers and magazines as well as Internet websites. She has written her own book, Beyond the Red Carpet: The World of Entertainment Journalists, from Sourced Media Books.
Follow her on Twitter
Like her on Facebook