'Ghost' celebrates its 30th anniversary with a new Blu-ray
Category:
Blu-ray's and DVD's

It's hard to believe that it has been 30 years since the mesmerizing film Ghost was produced. Released in July 1990, Patrick Swayze, Demi Moore, and Whoopi Goldberg captured the hearts of viewers everywhere with this emotional story.
When Sam (Swayze) is murdered in front of his girlfriend Molly (Moore), his spirit still remains. This is confusing for him but once he discovers a psychic (Goldberg) is the only person able to hear him, he enlists her to contact Molly on his behalf. Needless to say she is not too happy to be involved in this otherworld adventure, which is exactly what it becomes. As Sam puts together the pieces of why he was murdered, he realizes Molly's life is in jeopardy. The three join together to find peace for Sam and keep Molly safe.
The soundtrack is outstanding and the pottery scene has been recreated and mimicked over and over again on screen and even in real life. It might have even enticed viewers to take up the hobby.
This 30th anniversary edition of the two-time Academy Award-winning film is part of the limited edition Paramount Presents line of classic films. It comes with a foldout image of the original theatrical poster. There are also bonus features that have been released on prior editions as well as a brand new feature with director Jerry Zucker.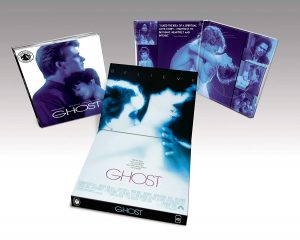 Zucker describes the film as a "spiritual love story" and was excited by the drama. Zucker had been associated with comedies so getting him to direct this film might not have been the most obvious choice. The director explains how the blend of comedy and tragedy is what makes this an appealing film. This "roller coaster" ride of emotions is also an element that viewers have enjoyed throughout the last 30 years. Zucker also loves the message of the movie. "The love inside – you take it with you."
With the strong emotional story of life and death and afterlife, peppered with the comedy of Whoopi Goldberg, Ghost is a delightful movie to watch over and over again.
Goldberg won the Oscar for Best Actress in a Supporting Role and Bruce Joel Rubin won for Best Writing. It is time to relive the love and death and everything in between with Sam, Molly, and Oda Mae. Ghost is rated PG-13.
About the Author
Francine Brokaw has been covering all aspects of the entertainment industry for over 25 years. She also writes about products and travel. She has been published in national and international newspapers and magazines as well as Internet websites. She has written her own book, Beyond the Red Carpet The World of Entertainment Journalists, from Sourced Media Books, is the entertainment correspondent for Good Day Orange County, and has her own TV show, Beyond the Red Carpet, on Village Television in Orange County.