Grace Kelly Collection DVD Set
Category:
Blu-ray's and DVD's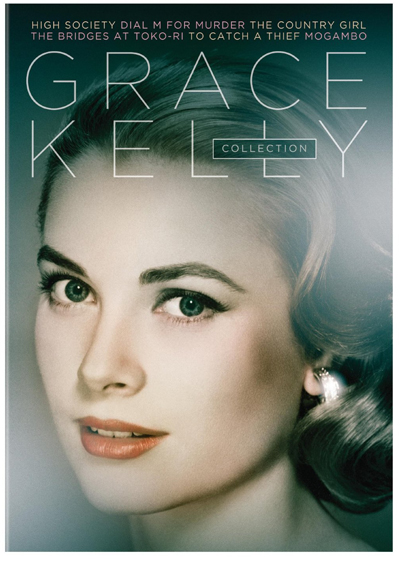 This new collection of Grace Kelly films includes many extras for fans of the actress/princess. In her relatively short but definitely fruitful acting career, Kelly managed to climb to the height of her profession, winning several awards including an Academy Award for her performance in the 1954 film The Country Girl. Grace Kelly Collection contains six of her memorable films.
In the 1953 film Mogambo Kelly costarred with Clark Gable and Ava Gardner. Grace Kelly was nominated for best supporting actress for her role in this film.
Her next feature film was the 1954 Alfred Hitchcock murder mystery Dial M for Murder, in which she starred opposite Ray Milland. Kelly was the perfect Hitchcock blonde – cool and sophisticated.
Kelly was a busy actress in 1954, with four more releases that year, including The Country Girl (opposite Bing Crosby), and The Bridges at Toko-Ri (opposite William Holden). Her fourth release of the year, Rear Window, is not included in this collection.
Then in 1955 Kelly teamed up again with Alfred Hitchcock for the mystery To Catch a Thief. This classic film elevated her screen appeal when she played the love interest of a very dashing and cunning ex-cat-burglar, played by Cary Grant.
In 1956 Grace Kelly again starred with Bing Crosby along with Frank Sinatra in High Society, a musical adaptation of The Philadelphia Story.
Bonus features on the discs include features about director Alfred Hitchcock, wardrobe designer Edith Head, composer Cole Porter, as well as "making of" and behind the scenes featurettes. There are also thirteen photo cards.
Perhaps the most important additional feature is Grace Kelly's final interview, which took place just before her untimely death in 1982. This July 1982 interview was conducted by Pierre Salinger and is over 50 minutes in length. Kelly was 52 years old when she died in a car accident. In 1956, just after completing the films High Society and The Swan, Kelly retired from acting to marry Prince Rainier of Monaco. From then on she was known as Princess Grace.
In this interview Grace discussed her feelings about royalty, which she said, "represents a continuity." She liked tradition. She also said modern monarchs work hard at their jobs. In her principality, the royal family knows the residents of the principality and interacts with them. This, of course, is due to the fact that the population is quite small in that country.
Grace also discussed the differences between her upbringing and her children's. They were brought up multilingual, and besides being fluent in French and English, some also speak Italian and German. The press and her feelings about them are part of the interview. She felt strongly about the freedom of people to express their feelings, but not to put words into her mouth. She detested the fact that the press often printed things about herself and her children that were completely false. She said people had "no freedom from the press."
Princes Grace discussed disciplining her children, the heads of state she met, and the difference between Europe and America, including the fact that she felt America lost its influence overseas for a while due to "weak leadership." She also compared the fact that people who came to America to live wanted to be completely American and associated with the country, disassociating them from their old lives. That was the melting pot of America, which is not the way it is today.
Finally, Salinger asked the princess how she would like to be remembered, which is a poignant part of the interview since she would be dead in just a few months. She wanted to be remembered as "understanding and kind."
This entire interview is amazing, and anyone interested in Princess Grace should definitely watch it.
Grace Kelly Collection is a remarkable collection of Hollywood history and wonderful films, as well as the poignant final interview with Princess Grace of Monaco.
About the Author
Francine Brokaw has been covering all aspects of the entertainment business for 20 years. She also writes about technology and has been a travel writer for the past 12 years. She has been published in national and international newspapers and magazines as well as internet websites. She has written her own book, Beyond the Red Carpet The World of Entertainment Journalists, from Sourced Media Books.
Follow her on Twitter
Like her on Facebook