Greg Kinnear stars as "Phil"
Category:
Movies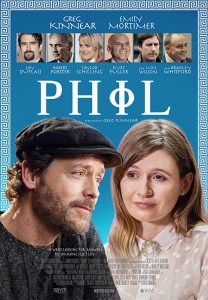 In his directorial debut, Greg Kinnear stars in the drama Phil. Also appearing in the film are Emily Mortimer, Jay Duplass, Taylor Schilling, Kurt Fuller, Luke Wilson, and Bradley Whitford.
Phil McGuire, DDS, is a depressed and despondent man. Although he has a thriving dental practice, his marriage is over and his life is not what he had expected it to be. He even contemplates suicide. Then, one day, Michael Fisk (Whitford) sits in his dental chair. This one dental exam changes Phil's life forever.
Phil is enamored by Fisk, who has a great career, a wonderful marriage and family, a nice house, and the idyllic life. At least it is that way on the outside. Phil starts stalking this man to find out how someone with a perfectly happy existence lives on a day-to-day basis. But when he discovers Fisk's suicide, Phil is more confused than ever.
Taking on the identity of a Greek friend Fisk mentioned while in his office, Phil (now aka Spiros) endears himself to the grieving widow (Mortimer) in an attempt to get inside the head of the man who had everything and threw it all away. This becomes an obsession for Phil, who also begins to take on the persona of Spiros with his likes and dislikes. He is happy as Spiros. Now all he needs to do is to find out why Fisk killed himself, and hopefully answer some of life's questions and be happy as Phil.
As Fisk told Dr. McGuire, Socrates said, "The unexamined life is not worth living." Phil is now examining not only Fisk's life but also his own. This double life he is living is not without consequences. His dental practice goes practically down the drain because Phil has no desire to go back to his office until he follows Spiros' journey to the end, wherever that leads.
So, the story is about life lived. Unfortunately, in the end, there is one big unanswered question for audiences. But that aside, this is an intriguing story about life, love, relationships, and what is worth living for. And audiences will examine their own lives and possibly decide to seize the moment because, as Fisk said, "Life is too short."
Phil is rated R for some language and a violent/disturbing image. It is definitely for adults only. Phil opens in theaters July 5, 2019.
About the Author
Francine Brokaw has been covering all aspects of the entertainment industry for over 25 years. She also writes about products and travel. She has been published in national and international newspapers and magazines as well as Internet websites. She has written her own book, Beyond the Red Carpet The World of Entertainment Journalists, from Sourced Media Books, is the entertainment correspondent for Good Day Orange County, and has her own TV show, Beyond the Red Carpet, on Village Television in Orange County. Follow her on Twitter