House of Cards Season 2 DVD Set
Category:
Blu-ray's and DVD's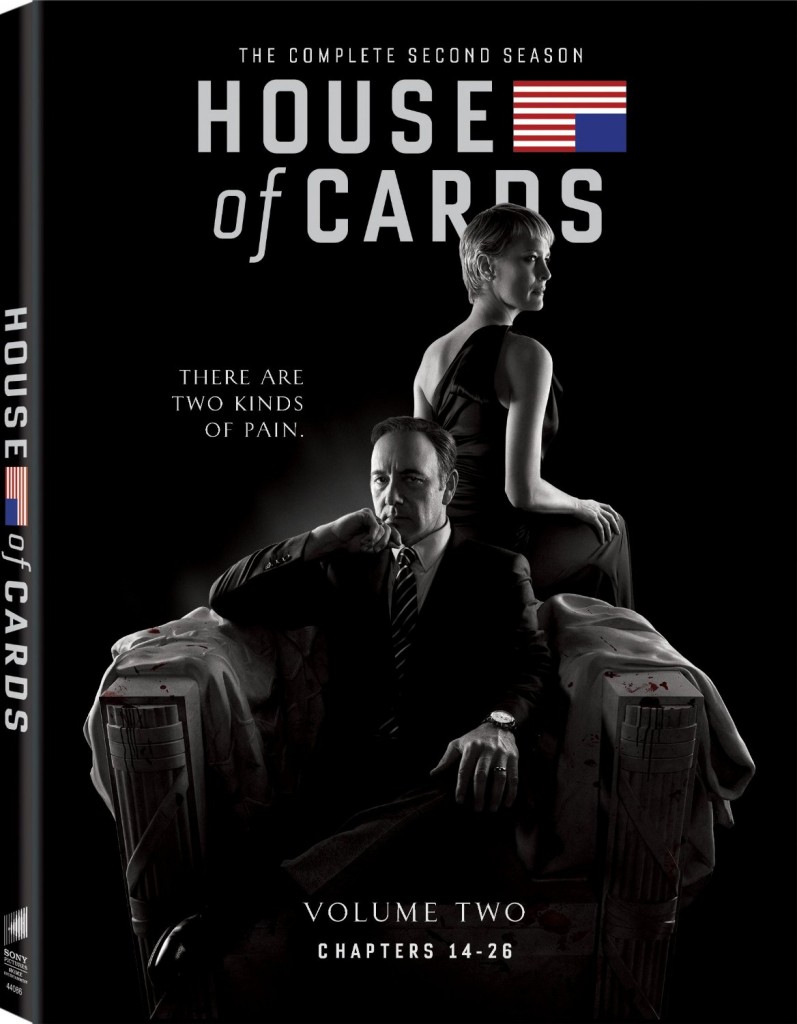 Manipulation abounds in the second season of the highly praised and addictive series House of Cards. Kevin Spacey and Robin Wright are extraordinary in their deviously manipulative roles of Frank and Claire Underwood.
The second season begins with Frank Underwood becoming the Vice President of the United States. If you think that is his final rung on the ladder, you are mistaken. Why settle for second when you can go for first? The entire season is like a chess game with Frank and Claire setting up the pieces on the board so they can make their moves.
It's difficult to detest Frank, even though he is ruthless and cunning. There's something loveable about him that makes his backstabbing tolerable. Unlike J.R. Ewing, Frank Underwood has a loveable side.
Without giving away any of the storylines, I will simply say that season two is as addicting as the first season. There is plenty of deceit, murders, sex, secrets revealed, and the final episode of the season culminates in checkmate.
Some of Claire's secrets are revealed, which both endear her to the public and create animosity. And Frank discovers a truth about his ancestor's life during the Civil War. As both of these characters' humanities bubble to the surface, their inner callousness builds and together their road to the White House becomes the focal point of their actions, which means eliminating anyone who might pose an obstacle to their plans. Anyone!
Bonus features on this four-disc set include a "Table Read," which gives viewers a look inside the way the actors act and react to the scripts. Another feature looks at the "Direct Address." Throughout the show, Kevin Spacey, in his role of Frank Underwood, looks directly at the camera and talks to the viewers. Sometimes he just looks at the camera and viewers know exactly what he is thinking. This tool is what makes him accessible to viewers. They get to see and hear exactly what is in his mind, when those around him are not privy to his inner thoughts. This is a tool that is rarely used in shows, and rightly so. It is a tricky tool, however in this case it works because it adds insight into the character that makes him more endearing, even though he is conniving and devious.
Another bonus feature compares and contrasts the original British series upon which this show was based. Kevin Spacey was the only actor considered for the role of Frank Underwood. It was, so to speak, written for him in the American version, which deviates quite a bit from the British show, of course.
House of Cards is a gripping series taking viewers behind the scenes of the ruthless and shrewd world of Washington politics. Kevin Spacey and Robin Wright have been recognized for their brilliant performances. Season two delves more deeply into their characters' relationship with each other and with their continuing ruthless behaviors that, in this season, work hand in hand. Once you start watching, you won't want to stop. Needless to say, this is for adults only.
About the Author
Francine Brokaw has been covering all aspects of the entertainment business for 20 years. She also writes about technology and has been a travel writer for the past 12 years. She has been published in national and international newspapers and magazines as well as internet websites. She has written her own book, Beyond the Red Carpet The World of Entertainment Journalists, from Sourced Media Books.
Follow her on Twitter
Like her on Facebook