I'll See You in My Dreams on DVD
Category:
Blu-ray's and DVD's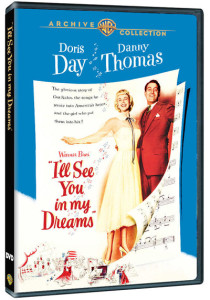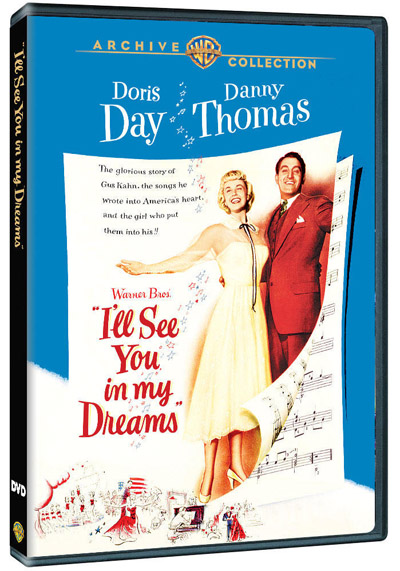 Doris Day and Danny Thomas teamed up to star in this story of lyricist Gus Kahn. This 1951 black and white film is filled with music by the famed lyricist and his writing partners. I'll See You in My Dreams is a fun and melodic look at the old days of the music industry when sheet music was king and no one ever heard of MP3s, and talking pictures were just making their debut.
Even though this is dated, this movie is a memorable story of the times and the life of Gus Kahn. Some of his songs include "I Wish I Had a Girl", "Pretty Baby", "The One I Love (Belongs to Somebody Else)", "My Buddy", "Toot, Toot, Tootsie", "Yes Sir, That's My Baby", "Carolina in the Morning", "Love Me or Leave Me", "Makin' Whoopee", and "I'll See You in My Dreams".
Kahn collaborated with many musicians, including Ira Gershwin, George Gershwin, Sigmund Romberg, Jerome Kern, Richard Whiting, Walter Donaldson, and others. Even his wife Grace put some of his lyrics to music. This movie does not include all of Kahn's memorable songs, but there are many that weave their way into the fabric of this story about his life. "Side by Side", "Dream a Little Dream of Me", "Ain't We Got Fun?" are well known today and have been re-popularized by modern singers. "Goofus" was written in the 1930s yet in 1976 The Carpenters put out their version of the song, "Side by Side" found its way into the 1991 Bruce Willis movie Hudson Hawk, "Ain't We Got Fun?" wound up in a 2010 episode of True Blood as well as an episode of Law & Order: SVU.
The songs by Kahn have stood the test of time. Even though this movie is set in the first half of the 20th century, the songs penned by Gus Kahn are still being recorded, have become part of pop culture, and are just as entertaining in 2014 as they were in the 1900s. And this film shows off both the acting and singing talents of Danny Thomas and Doris Day.
I'll See You In My Dreams is a wonderful biopic about a couple completely dedicated to each other. It highlights the talents of its stars as well as those of lyricist Kahn. It's part of the Warner Archive Collection and can be ordered through their website at www.wbshop.com.
About the Author
Francine Brokaw has been covering all aspects of the entertainment business for 20 years. She also writes about technology and has been a travel writer for the past 12 years. She has been published in national and international newspapers and magazines as well as internet websites. She has written her own book, Beyond the Red Carpet The World of Entertainment Journalists, from Sourced Media Books.
Follow her on Twitter
Like her on Facebook