'Kindergarten Cop 2' DVD Giveaway
Category:
Giveaways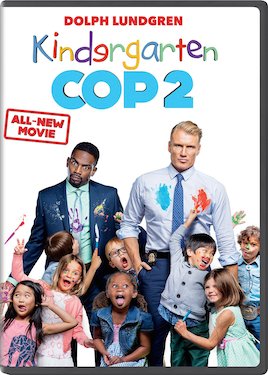 A family favorite gets reimagined in Kindergarten Cop 2, a fish-out-of water comedy available on DVD and Digital HD as well as On Demand on May 17, 2016, from Universal Pictures Home Entertainment. Kindergarten Cop 2 stars action superstar Dolph Lundgren and Bill Bellamy along with an adorable ensemble of young actors and is bursting with laughs for the entire family.
Assigned to recover sensitive stolen data, a gruff FBI agent (Dolph Lundgren) goes undercover as a kindergarten teacher, but the school's liberal, politically correct environment is more than he bargained for.
The Kindergarten Cop 2 DVD and Digital HD will delight longtime fans and new viewers alike with hilarious bonus features including deleted scenes, a gag reel and a behind-the-scenes look at the making of the film.
DVD & DIGITAL HD BONUS FEATURES
• Deleted Scenes
• Gag Reel
• Kindergarten Cop 2: Undercover
We have some copies to giveaway.
To be eligible to win a copy of Kindergarten Cop 2, email us at [email protected] with "Kindergarten Cop Giveaway" in the title. Please supply your name, address, phone number and email address (so we can let you know if you are a winner).
The deadline for this giveaway is May 24, 2016.