'Larissa: The Lost Romanov' is an amazing story
Category:
Television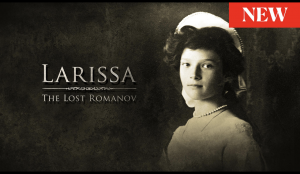 History has declared that the last Czar of Russia, Nicholas, and his family were taken prisoners by the Bolsheviks and executed. There have been countless claims by women around the world that they were in fact Anastasia, the youngest daughter of the Czar. Claiming escape from the Bolsheviks, these women were all proven to be imposters. But there was one woman who never claimed to be the daughter of the Czar. In fact, she kept very quiet about her past. She took the name Larissa and lived in England. Larissa: The Lost Romanovis her story and this documentary on True Royalty TV is impressive and believable.
By examining the life and information about "Larissa," and with pretty compelling "coincidences" between Larissa, her husband, mysterious visitors to their cottage, dates celebrating events that coincide with dates in the lives of Grand Duchess Tatiana, and even Grand Duchess Maria, the claims by current historians that Larissa was truly one of the daughters of the Czar are very believable.  It has been written that King George wanted to save his cousin the Czar and his family, but because the Czarina was German and Britains were anti-German, he was advised not to do anything to help them. It's interesting to note that the King and the Czar looked more like brothers, even twins, than first cousins. Their family connections were strong.
Even though he was advised to stay out of the situation, could the King have secretly attempted to rescue the Czar's family? Could he have succeeded with one of the daughters? Could this daughter have been Tatiana? Larissa bears an uncanny resemblance to Tatiana.
There are so many connections between Larissa and the Russian family, including the fact that Larissa was indeed Russian, had absolutely no history prior to arriving in Britain, was connected to some secret events, and was visited by a woman who was thought to be the Queen. Very compelling.
Besides these "coincidences," there are plenty more that include Ian Fleming, the author of James Bond and who was in real life connected to the British secret service. Fleming's first Bond novel, "From Russia with Love" had many connections with Larissa and the Czar's daughter, including names and dates. Was he really detailing events in this novel that had happened covertly?
When the remains of the Romanov family were finally discovered, there was one daughter missing. Later when another grave was found it was assumed it was that of the other daughter. But there has been no confirmation to say without a doubt that it was a Romanov.
This is a fascinating story and one that has roots and could prove true. While history records that the entire Romanov family was executed and King George did nothing, perhaps these will ultimately prove to be false.
Larissa: The Lost Romanov is available through True Royalty TV. At the current time TrueRoyalty.TV is running a special for subscribers to their streaming service. Check them out. They have some amazing documentaries, films, and talk shows devoted to the royals of the world.
<strong>About the Author</strong>
Francine Brokaw has been covering all aspects of the entertainment industry for over 25 years. She also writes about products and travel. She has been published in national and international newspapers and magazines as well as Internet websites. She has written her own book, <a href="http://francinebrokaw.com/" target="_blank">Beyond the Red Carpet The World of Entertainment Journalists</a>, from Sourced Media Books, is the entertainment correspondent for Good Day Orange County, and has her own TV show, <a href="https://www.youtube.com/playlist?list=PL42xcltr8DpNOHoYDAXbdt808jK4bZ-X7″>Beyond the Red Carpet</a>, on Village Television in Orange County. She is a longstanding member of the Los Angeles Press Club and the Television Critics Association.