Last Vegas on DVD
Category:
Blu-ray's and DVD's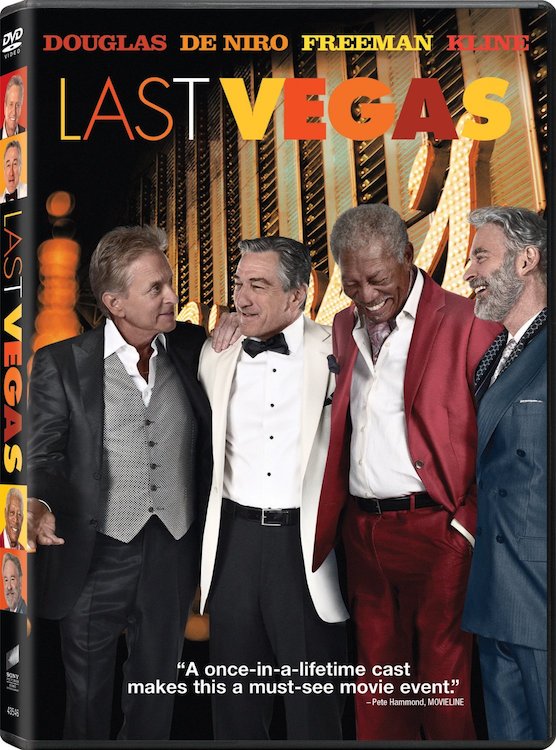 Last Vegas is a comedy for the AARP set. It's filled with senior fun and delight, however those who are not yet looking at retirement will also enjoy the hilarious situations set forth in this film. The cast alone is worth the price of admission, or in this case, the price of the DVD.
Michael Douglas, Robert De Niro, Kevin Kline, and Morgan Freeman join together to form a movie cast that is worth their weight in gold, or in this case, Academy Awards. Billy (Douglas), Paddy (De Niro), Archie (Freeman), and Sam (Kline) are intriguing characters, and when they were young boys growing up in Brooklyn they called themselves the Flatbush Four. Fifty-eight years later, after they have each experienced their own ups and down and gone through most of their lives, they are getting together again.
Archie suffered a stroke and is living with his son's family. Billy is living the high life in Malibu. Sam and his wife moved to Florida. And Paddy is still mourning the loss of his wife a year earlier. So, when Billy decides to marry his girlfriend, who happens to be half his age, the guys decide to have a bachelor party in the party capitol, Las Vegas, where everything is possible and nothing is shameful. After all, what happens in Vegas stays in Vegas.
While Sam and Archie are all for the big Par-tay, they have to trick Paddy into going to Vegas. Paddy and Billy had a falling out earlier and aren't on the best terms. But it's time to put the past in the past and move on. After all, there aren't too many great times to look forward to and the clock is ticking. So, the foursome finally reunites with the intention of having the time of their lives.
Getting old is inevitable. But even though our bodies age, we still feel young. "My brain cannot conceive how old this body is," one of them remarks. However, these four old bodies have a lot of life left in them, as they all discover while in Sin City. The onscreen chemistry between the foursome is entertaining, making it difficult to single out one character more than the other.
There are a few bonus features on the DVD. In the first one the four actors discuss their characters and lay the background for the storyline. Another bonus also includes the cast discussing the film. Kevin Kline was the last to be attached to the film and comments, "Good actors bring out better work in other actors." It's difficult to believe that these actors had never worked together prior to this movie. Morgan Freeman states, Last Vegas is "a story about friendship." The characters on screen were great friends, and after this experience the actors were all better friends. In the final bonus feature Michael Douglas comments that it was clever of the filmmakers to "establish the characters as kids" in the beginning, thus setting up their lifelong friendship for the viewers. The viewers realize from the opening that these four are bound together for the rest of their lives.
This is a really fun movie, and although it accentuates the Medicare generation, it has a lot of great scenes even younger viewers can appreciate and enjoy. It shows that even though a body is old, or older, there is a young person inside who still feels, loves, and desires to enjoy life. Last Vegas is rated PG-13 for sexual content and language.
About the Author
Francine Brokaw has been covering all aspects of the entertainment business for 20 years. She also writes about technology and has been a travel writer for the past 12 years. She has been published in national and international newspapers and magazines as well as Internet websites. She has written her own book, Beyond the Red Carpet: The World of Entertainment Journalists, from Sourced Media Books.
Follow her on Twitter
Like her on Facebook