Little Accidents on DVD
Category:
Blu-ray's and DVD's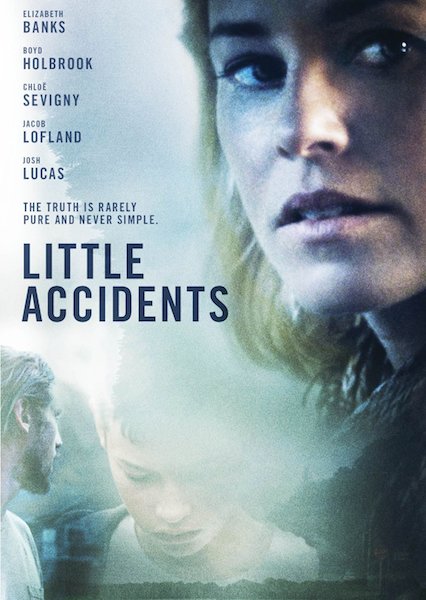 Elizabeth Banks and Boyd Holbrook star in this dramatic story of life in a small American town after a tragic coal mine accident. Everyone is still coping with the loss of a group of miners who perished in the accident. Only one survived. Little Accidents is the story of life, grief, and secrets.
Amos Jenkins (Holbrook) was the sole survivor of the accident. He is coping with his rehabilitation and survivor's remorse. Bill Doyle (Josh Lucas) is the mining company executive who is at the center of the accident investigation.
When the Doyle's son JT goes missing, the police suspect foul play. Earlier that day Diane Doyle's (Banks) car was vandalized. Diane Doyle is now thrust into a living nightmare. Where is her son?
The only one who knows where JT is and what happened to him is Owen (Jacob Lofland), a friend and classmate who is hiding a disturbing secret.
A web of secrecy envelopes the people of the town as Amos and Diane become close friends and Owen and Diane also become friends. Owen is harboring guilt however he cannot let anyone in on his secret, especially Diane. And Amos discovers Diane is more than just the boss' wife. They share a common experience – loss.
Emotions run deep in this very dramatic tale. Little Accidents won the Hamptons International Film Festival and the Napa Valley Film Festival. While the story is sad and depressing, the acting is top notch.
The desolation of the coal-mining town and the tranquility of West Virginia play heavily in this film. The movie is not rated, however due to the sensitivity of the storylines and language it is not recommended for young viewers. Little Accidents is intense. Some viewers might not like the ending. The story seems to simply stop without adequate resolution for many of the characters. Personally, I felt let down by the ending.
Little Accidents is now available on DVD.
About the Author
Francine Brokaw has been covering all aspects of the entertainment business for 20 years. She also writes about technology and has been a travel writer for the past 12 years. She has been published in national and international newspapers and magazines as well as internet websites. She has written her own book, Beyond the Red Carpet The World of Entertainment Journalists, from Sourced Media Books.
Follow her on Twitter
Like her on Facebook