Los Angeles Philharmonic kicks off the 2016/2017 Winter Season
Category:
Activities, Performances, & Events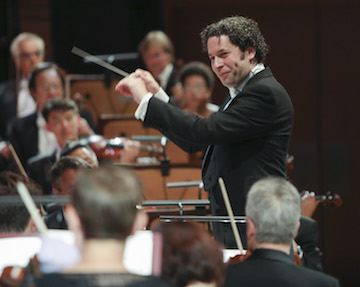 While the Hollywood Bowl is the place for music in the summer, the Los Angeles Phil calls the Walt Disney Concert Hall its winter home. September 27th the Los Angeles Philharmonic kicked off its winter season at the Walt Disney Concert Hall with a grand gala and concert featuring Megan Hilty and Brian Stokes Mitchell singing songs by Cole Porter and Gershwin, and George Li accompanying the orchestra for a rousing rendition of Gershwin's "I Got Rhythm."
The opening night gala was dedicated to Gershwin and the Jazz Age, with songs by Ellington, Porter, Bernstein, and of course Gershwin. Led by conductor Gustavo Dudamel, the orchestra was met by countless applause and standing ovations. The concert was full of music and fun as Brian Stokes Mitchell involved the entire auditorium in his rendition of "It Ain't Necessarily So." The two singers performed duets – "Let's Call the Whole Thing Off" and "So in Love." They each were featured in solos and the orchestra ended the night with the Gershwin's legendary "An American in Paris."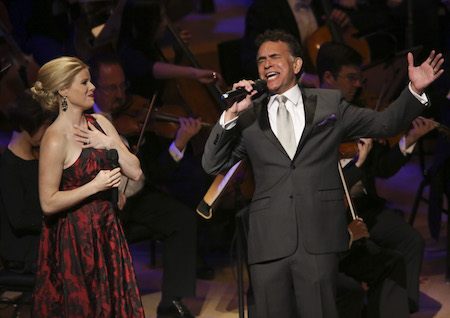 The Disney Concert Hall is a beautiful venue and for visitors to the city, it is a wonderful place to take in a concert. Locals know the stunning architecture, which has been featured in countless television commercials as well as feature films. And the LA Phil is the "hometown orchestra" that never fails to touch the hearts, minds, and souls of all its listeners.
This is the eights season Gustavo Dudamel has been conduction the Los Angeles Philharmonic. This Venezuelan native has dedicated his life to music and bringing the love and joy of music to all his listeners. Dudamel received the Americas Society Cultural Achievement Award in 2016, and the 2014 Leonard Bernstein Lifetime Achievement Award for the Elevation of Music in Society from the Longy School. He was also on Time Magazine's list of the 100 most influential people in 2009.
For more information and a schedule of the season's concerts, visit www.laphil.com. There are also tours of the magnificent Walt Disney Concert Hall, however the auditorium itself is not on the tour due to rehearsals and special events.
(all photos courtesy Craig T. Mathew and Greg Grudt/Mathew Imaging)
About the Author
Francine Brokaw has been covering all aspects of the entertainment industry for over 20 years. She also writes about products and travel. She has been published in national and international newspapers and magazines as well as Internet websites. She has written her own book, Beyond the Red Carpet The World of Entertainment Journalists, from Sourced Media Books.
Follow her on Twitter