'Love Me or Leave Me' on Blu-ray
Category:
Blu-ray's and DVD's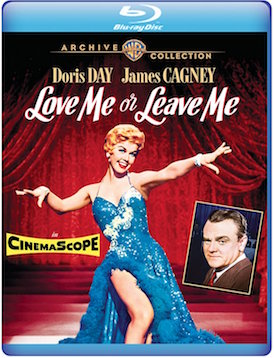 Doris Day shows both her acting ability and singing prowess in the 1955 film Love Me or Leave Me, also starring James Cagney. The movie is a biopic of 1920's songstress Ruth Etting, beautifully played by Day.
The film starts in Chicago. Gangster Martin Snyder (Cagney) takes a liking to dancehall girl Etting. She is a smart girl and once she realizes he is "connected," she uses him to get her career on the right track. She doesn't want to be a dancer. She is a singer. That's what she wants to do with her life. And she's a great singer. So when Martin realizes how good she really is, he decides to take her to the top of the profession, with the understanding that she will eventually relent to his desires.
In the meantime, Ruth and piano player Johnny Alderman (Cameron Mitchell) form a friendship that is actually deeper. They love each other yet Ruth puts her career ahead of her personal life. She also puts Martin in charge of her career, and he takes her away to NYC.
Ruth soon finds she is stuck in a situation she cannot extricate herself from and Martin pulls all the strings. She realizes she put herself in this situation and relents completely. She marries Martin who pulls her from the Ziegfeld Follies and takes her on the road.
Even though Ruth's songs are often upbeat and fun, there are plenty of dark songs that truly show her deep emotions. And the story itself is dark. But Ruth plugs away in the career she and Martin created, knowing that she made the decision to follow this route.
This Blu-ray edition from the Warner Archive Collection has remastered audio making Day's songs leap from the screen. While Ruth is suffering in her personal life, the music is filling the story with Day's fabulous singing and acting. And of course, Cagney is marvelous as the gangster who strong-arms everyone to do what he wants, including his wife.
The bonus features include a behind the scenes featurette, and two shorts featuring the real Ruth Etting. She was called "America's Sweetheart of Song" and some of the songs associated with her are "Shine On, Harvest Moon," "Exactly Like You," "Shaking the Blues Away," "Mean to Me," "Button Up Your Overcoat," and "Love Me or Leave Me."
This movie takes some dramatic liberties with the actual story, however it does highlight much of the life, career, and loves of Ruth Etting.
Love Me or Leave Me is part of the Warner Archive Collection.
About the Author
Francine Brokaw has been covering all aspects of the entertainment industry for over 20 years. She also writes about products and travel. She has been published in national and international newspapers and magazines as well as Internet websites. She has written her own book, Beyond the Red Carpet The World of Entertainment Journalists, from Sourced Media Books.
Follow her on Twitter