'Meghan & Harry: A Royal Baby Story' on TLC
Category:
Television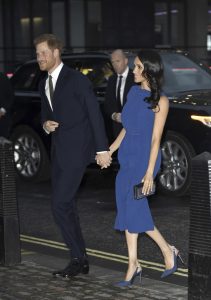 It's almost time for the newest member of the royal family to make his/her appearance. In anticipation of this big event, TLC will air a new hour-long documentary Meghan & Harry: A Royal Baby Story on April 9, 2019.
This baby will be a big change for the royal family. It's mother is the first bi-racial, American, divorced princess. Harry and Meghan's wedding was the start of something new for the royal household.  Meghan has proven to be quite a change for the royals, as Diana was. The similarities between Diana and Meghan are highlighted in this film.
Another highlight is Meghan's wardrobe during her pregnancy. Diana and Fergie wore baggy, loose maternity dresses. Kate Middleton was classier with more modern dresses yet she still dressed more modestly than Meghan. Meghan has been wearing bump-hugging dresses that royals have not worn before. And Meghan has also been wearing highly priced designer clothing. Wait until you see some of Meghan's outfits. They will have many women drooling when they watch this show.
Meghan's Hollywood personality and red-carpet style is new for Britain. She definitely has her own way of doing things and since she is not going to be queen, her style and lifestyle are not as stringent as those of Kate Middleton who has to conform to certain standards. Meghan does not conform and it appears she will never conform. She is her own woman and her appearances during her pregnancy prove that.
The show has several people speculating about the future baby and Meghan's motherhood style. Those appearing in the film are:
Emily Andrews, Royal Correspondent
Juliet Angus, Fashion & Lifestyle blogger
Sarah-Jane Crawford, Broadcaster
Grant Harrold, former Butler to Prince Charles
Duncan Larcombe, Author, 'Prince Harry: The Inside Story'
Samantha Markle, Meghan Markle's half-sister
Sophia Money-Coutts, Journalist
Emily Nash, Royal Editor, HELLO!
Katie Nicholl, Royal Author
Ashley Pearson, Celebrity Journalist
Ken Wharfe, Former Royal Protection Officer
Kate Williams, Historian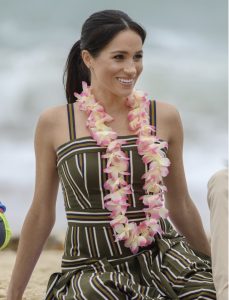 Another aspect of the show is Meghan's lavish lifestyle and her over-the-top baby shower. Her celebrity friends have stood beside her the entire time and have come to her defense when the British press has criticized her.
The similarities between Meghan and Diana as well as Meghan and Harry are examined, as is their new life together in their home away from London where they will raise their family out of the public's eyes. Their life is quite different than that of William and Kate as is their future.
So, for royal watchers, this show is a fun look at the royal life of Meghan Markle as she forges her own way in the House of Windsor.
About the Author
Francine Brokaw has been covering all aspects of the entertainment industry for over 25 years. She also writes about products and travel. She has been published in national and international newspapers and magazines as well as Internet websites. She has written her own book, Beyond the Red Carpet The World of Entertainment Journalists, from Sourced Media Books, is the entertainment correspondent for Good Day Orange County, and has her own TV show, Beyond the Red Carpet, on Village Television in Orange County.
Follow her on Twitter