Million Dollar Arm – Movie Review
Category:
Movies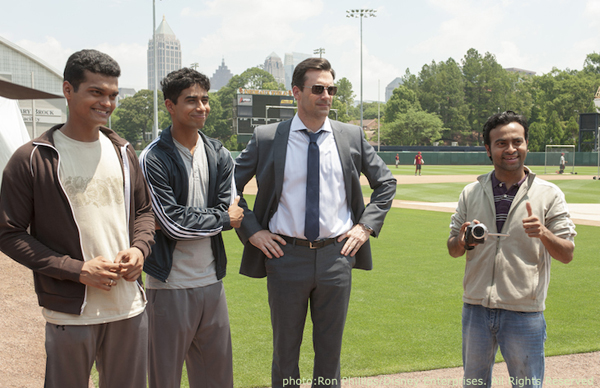 Million Dollar Arm is a movie that will not only leave audiences with a feeling of amazement, it will also have them intrigued by the people on which this story was taken. Yes, it is based on a true story, and is definitely one of the year's feel good movies for all ages.
Jon Hamm stars as JB Bernstein, a sports agent who is down on his luck. His agency is in financial trouble and if he doesn't sign a big contract soon, he may have to shut it down. JB comes up with an interesting solution. Instead of looking for an athlete who is already raising the roofs of ball fields, stadiums, or sports centers, he decides to take some unknown boys and turn them into baseball players. But his plan is more intricate than simply plucking out some wanna-be ball players, he thinks outside of the box. As a matter of fact, he thinks outside of the country and even the continent. JB goes to India to look for cricket players to turn them into baseball players.
In India he holds the "Million Dollar Arm" contest to find two men who can throw the fastest baseball. He brings along Ray Poitevint, a retired baseball scout. Alan Arkin plays Poitevint with humor and adds additional fun to the storyline.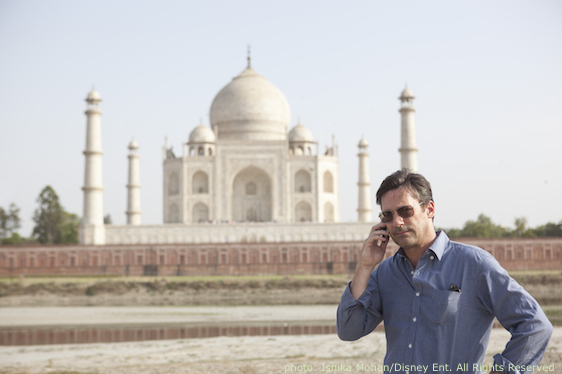 Another fun character is Amit (Pitobash), an eager young Indian who works "for free" and helps JB with the contest then as a translator for the boys when they go to the United States. This guy is adorable and is always good for a laugh, even though he is very serious.
Finally, Rinku and Dinesch (Suraj Sharma and Madhur Mittal) win the contest in India and face their next challenge. They are going to leave their small villages and go to America for a chance at a major league contract after a brief training program with USC coach Tom House, played by Bill Paxton, who must work closely with these nobodies and turn them into somebodies. This entire process must be done in a year for JB's investor to buy into the plan.
While in California, the boys end up staying with JB who lives a bachelor life. He has no idea what to do with the three Indian boys. He continues to order pizza for their dinners and leaves them under the care of House in the day and mainly by themselves at night, while he is off still trying to sign a big contract with a professional player.

The boys bond with JB's tenant Brenda (Lake Bell), who sees their loneliness and frustration and tries to get JB to spend more time with them. After all, the 18-year-olds have never been away from their families and their villages. They have never seen an escalator. Los Angeles is a strange and wondrous place.
Jon Hamm explained, "I am a big sports fan and I was intrigued by this story which had gone under my radar. I read the script, looked up the real story online, and the more I found out, the more fascinated I was. So on a fundamental level, I was intrigued. It's more a story about people and how they relate to each other. As the story unfolds, we realize that JB is learning as much about himself as the boys are about their new life. So it all just coalesced. The more I learned about it, the more attractive it became.
Producer Mark Ciardi explained about why House was selected by JB. "He's kind of like a throwing guru. So JB was thinking, who is going to take these two kids and teach them how to pitch? So he went to Tom House who he knew a little bit and figured if it is going to be anyone, it's going to be this guy. In our script, we say half the people think he is crazy and half the people think he is genius. A guy like that would be willing to take these kids on."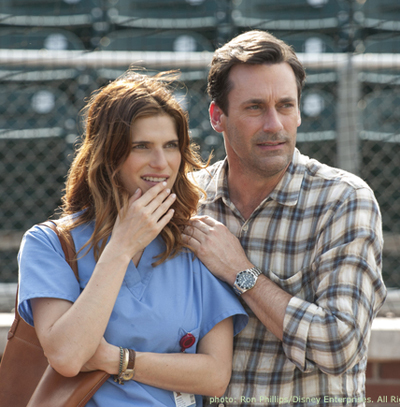 Paxton also said that House was happy to have him play the part and gave him creative license in doing so. "He couldn't have been nicer about it. He said, 'If you play me as you, you'll be the best me,'" Paxton recalled.
Director Craig Gillespie said casting the role of Brenda was tricky. "She is really the cement of the movie. She's really well-written but she had to have a light touch to her because at certain points, she's rough on JB. That was probably the hardest casting and she was exactly what we needed."
Million Dollar Arm is the Miracle of baseball. The 2004 movie Miracle was the story of the underdog 1980 US hockey team that made history. Million Dollar Arm is the story of underdog Indian boys who also made history. You could say it is a fun "Ball-ywood" movie. Even if you are not interested in baseball, this is a feel good movie with a wonderful story.
The film is rated PG for mild language and some suggestive content. It opens May 16, 2014.
Quotes from Disney Press Production Notes
About the Author
Francine Brokaw has been covering all aspects of the entertainment business for 20 years. She also writes about technology and has been a travel writer for the past 12 years. She has been published in national and international newspapers and magazines as well as internet websites. She has written her own book, Beyond the Red Carpet The World of Entertainment Journalists, from Sourced Media Books.
Follow her on Twitter
Like her on Facebook