Misty Copeland visits 'Peg + Cat'
Category:
Television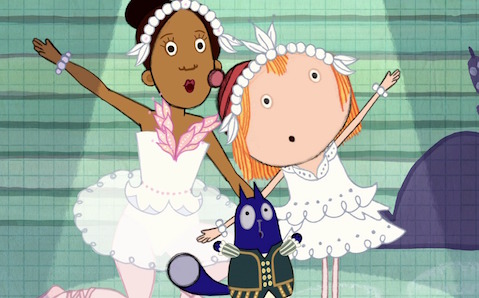 Combining counting, shapes, and sizes, along with dancing, October adds a new dimension to the popular PBS Kids show Peg + Cat – namely the world-renowned dancer Misty Copeland. This is a fun episode for viewers, Peg, and even Cat.
The duo learns that dancing is not about size, shapes, or colors. Anyone can dance, According to Misty Copeland, "Everything is awesome when you dance." Dancing is also about how you make people feel. And Peg and Cat love to dance.
When they arrive just a bit late to get a seat for the Swan Lake ballet starring Misty Copeland, Peg and Cat are disappointed. But their friend says they can watch the performance from the wings if they do a little backstage work. Peg and Cat jump at the idea. They get to see Copeland up close and when something happens on stage, Peg takes over as a ballerina and Cat takes on the role of the prince. He's a bit reluctant since he has a tail, but Copeland talks him into it and all the dancers enjoy their performance of Swan Lake.
This is a fun episode for kids as well as adults. And Misty instructs Peg and Cat to "Dream big – you can do anything." This was what got her to the top of her profession.
"PEG + CAT furthers PBS KIDS' commitment to using the power of media to help all children realize their potential," said Lesli Rotenberg, Senior Vice President and General Manager, Children's Media and Education, PBS. "These new episodes will help kids build important life skills, such as problem-solving and perseverance, and set a positive example for our viewers – especially girls – with the series' signature combination of 'girl-power' and 'brain-power' and special appearances of real-life role models Misty Copeland and Sandra Oh."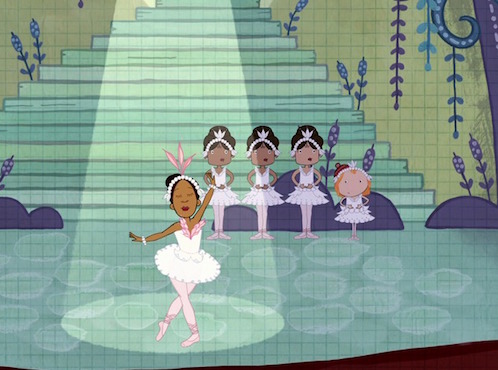 "The Dance Problem" episode of Peg+Cat with Misty Copeland premiers October 19, 2016.
In another episode this new season, Sandra Oh returns as the President of the United States. This episode premiers October 4, 2016.
"We are so excited about introducing these special episodes of PEG + CAT to young viewers and their families nationwide," said Paul Siefken, Vice President, Broadcast and Digital Media, The Fred Rogers Company. "You never know who Peg and Cat may encounter next as they work together to solve problems, and with both Misty Copeland and Sandra Oh joining the show as guest stars this fall, fans are in store for even more 'totally awesome' fun."
About the Author
Francine Brokaw has been covering all aspects of the entertainment industry for 20 years. She also writes about products and travel. She has been published in national and international newspapers and magazines as well as Internet websites. She has written her own book, Beyond the Red Carpet The World of Entertainment Journalists, from Sourced Media Books.
Follow her on Twitter