Modernized Seven Dwarfs
Category:
Sneak Peeks & Trailers

The talented folks at Disney got together some current artists to design modern versions of the Seven Dwarfs. Here is what they came up with.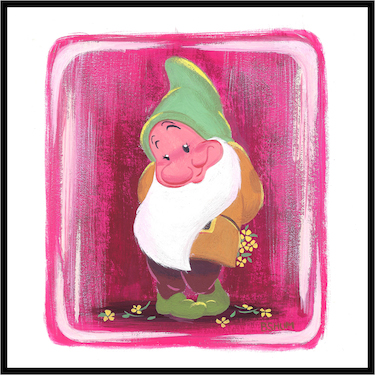 BASHFUL by Benson Shum (Animator, Zootopia, Moana)
"I always wanted to be an animator and started to pursue that after high school! The Little Mermaid was one of the first movies that inspired me to become an animator. For Bashful, I looked at the original model sheets of the dwarfs to get inspired to see how they were drawn and created. I picked the background color to match Bashful's personality."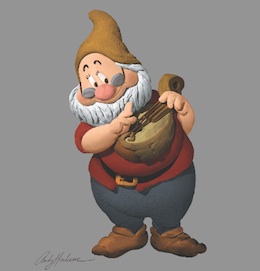 DOC by Andy Harkness (Art Director of Environments, Moana)
"When I was a freshman in college, Disney visited our school and showed us early clips of The Lion King and Pocahontas. I was hooked immediately. There was something about seeing the work in progress that sparked something in me. I created "Happy" using polymer clay. Then I photographed the sculpt and painted him in Photoshop. I found an image of him with a little guitar and thought that would make a charming prop for the design."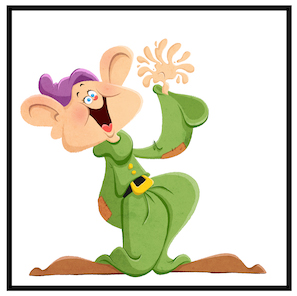 DOPEY by Trent Correy (Character Animator, Zootopia, Moana)
"I was 17 years old and trying to find something to do after high school. I loved making live action films and also liked to draw, so animation seemed like a good fit! I just tried to have fun with Dopey and keep the drawing as wacky and energetic as his character."

GRUMPY by Eric Goldberg (Supervising Animator, Moana)
"I loved creating flip books at age 6 and made Super 8 films at age 13, I've always had an interest in animation and filmmaking for as long as I can remember. Since he's Grumpy, I wanted to tap into his "grumpiest" side, with strong underlighting and stylized color. This is, of course, before Snow white transformed him!"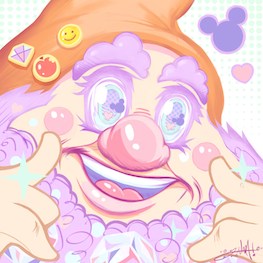 HAPPY by Nara Youn (Animator, Zootopia, Moana)
"I always loved animation and was glued to the TV in admiration. There is one movie that made everything click for me and that movie was Monsters Inc. The animators gave so much character and story to such simple looking characters and I just fell in love with the craft. It was the movie that drew the bridge for me and made me think, 'Wow, I really want to do this.' For Happy, I used to draw on a Post-it note everyday for three years straight. Since then I have found it very comforting to work that way and have created more than a thousand tiny art pieces because of Post-its. It's medium has become a signature of mine :)"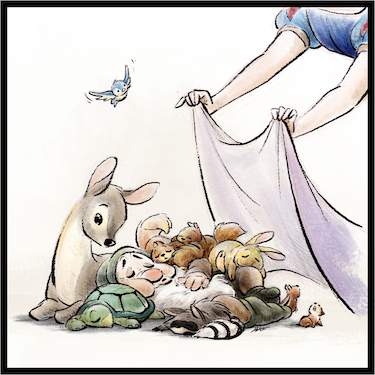 SLEEPY by Hyun-Min Lee (Animator, Zootopia, Moana)
"I think it was when I was about 4 and watched Robin Hood, which was the first Disney animated film I ever watched, that I first became aware of Disney Animation and its amazing legacy. I watched a lot of Disney features and shorts from then on, and even if I didn't know what being an "animator" even was, I knew I wanted to do something related to the making of those films. I kept drawing and watching lots of animation, until finally I was able to realize my dream and became a Disney animator! I think picking "Sleepy" was a natural and fortunate choice for me, since I'm always the sleepy one around work! I think I identify with how hard Sleepy works on fulfilling his role no matter how tired he is. During important moments especially, he may be "sleepy," but not "sleeping," which I think is an important distinction!"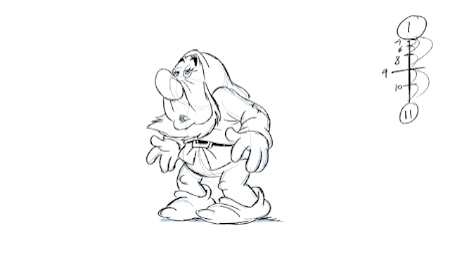 SNEEZY by Valentin Amador Animator, Zootopia, Moana)
"According to my parents, when I was 4 they took me to see Fantasia and I was mesmerized by it. As early as I can remember I've always wanted to be a Disney animator. For Sneezy, I wanted to create a little piece of animation, but leaving it rough, no clean up lines or color, to show a bit of the process to the audience. I even left the in-betweening charts to show how a finished rough animation looks. Also, to bridge the old and the new, I animated it on a digital medium, but I used one of the original sneezes from the character in the film."
Here are the original versions of the iconic Seven Dwarfs we all know and love: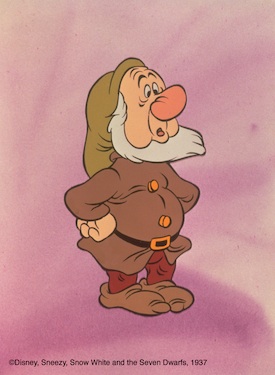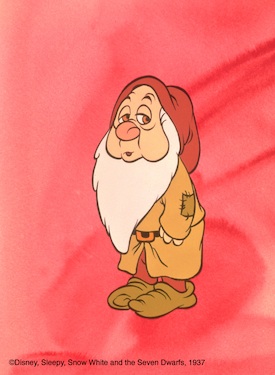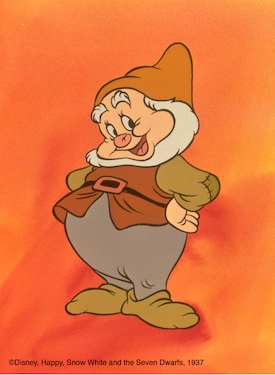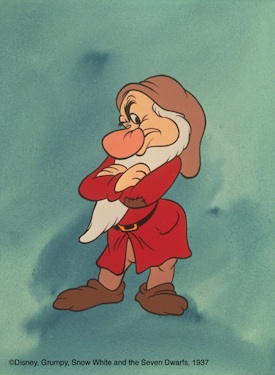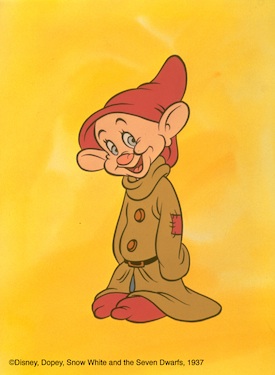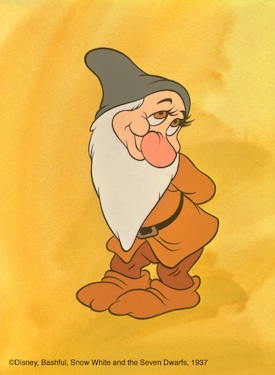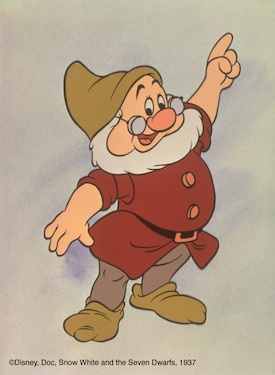 The new Legacy Edition of Snow White and the Seven Dwarfs is now available.