Molly Moon and the Incredible Book of Hypnotism – Movie Review
Category:
Movies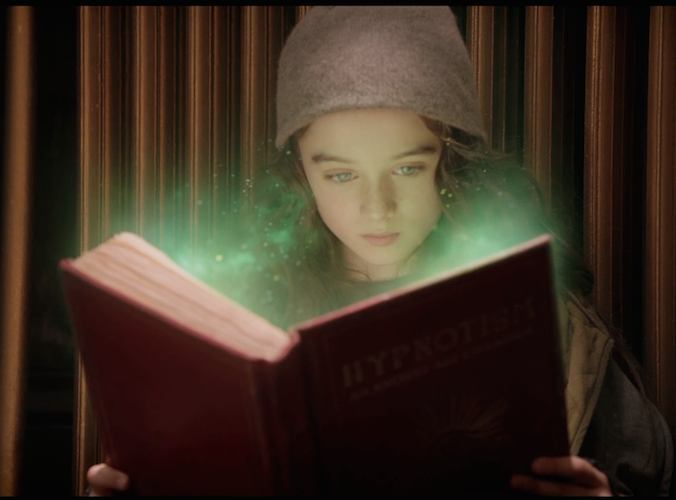 Move over Annie, Molly is going to steal the hearts of audiences. Raffey Cassidy delightfully plays this feisty yet endearing little orphan. Molly Moon and the Incredible Book of Hypnotism is a fun little film for the entire family, but mainly for tweens who will delight in the antics of this adorable little girl who just wants to experience more in her life.
Molly and her friends live in a dark orphanage outside of London, run by Miss Adderstone (Leslie Manville), a woman who has no compassion for the children. One of her assistants, Miss Trinklebury (Emily Watson) tries to make life comfortable and enjoyable for the kids. Well, at least as much as she can. The kids are given early curfews and forced to eat fish soup three times a day. They are clothed in dirty old rags and they are not instilled with any self-worth.
Molly, who loves to spend time in the nearby library, comes upon a magical book titled "Hypnotism, An Ancient Art." She devours the lessons within and learns to hypnotize anyone, including Miss Adderstone. Molly starts out using her new power to help people, and then realizes she can help herself.
She takes off for London in search of her best friend Rocky who was just adopted by a wealthy couple. It's in the big city where she discovers wealth and fame. But it's not real. It comes from her powers of persuasion. Unfortunately, her secret is discovered by some evil people who decide to kidnap the girl to use her powers to steal from a bank filled with jewels. Dominic Monaghan and Joan Collins play the criminal mother/son duo.
Molly, considered a "reject" by the bullies in the orphanage, is taken aback by all the wonders of the big city. She quickly becomes a young pop star, even though she has no talent. Her power of hypnotism is far-reaching and even global. But is this grand life worth the consequences?
The point of this story is played out in one of the songs. Believe in yourself.
There is no doubt this family film will delight audiences, and it may be followed up by another Molly Moon film. After all, there are several books in the "Molly Moon" series penned by Georgia Byng. The books are geared for ages 8-12, the target audience of this movie. If your kids enjoy the books, they will love the movie. If they haven't read the books, this is a good introduction to the world of Molly Moon. Don't forget to pick up some copies of the books in your local bookstore or online. Molly is filled with fun and imagination, and an interesting perspective on life.
Believe in yourself and in Molly Moon! Molly Moon and the Incredible Book of Hypnotism opens in select theaters and VOD beginning August 14, 2015. It's rated PG for thematic elements and brief language.
About the Author
Francine Brokaw has been covering all aspects of the entertainment business for 20 years. She also writes about technology and has been a travel writer for the past 12 years. She has been published in national and international newspapers and magazines as well as internet websites. She has written her own book, Beyond the Red Carpet The World of Entertainment Journalists, from Sourced Media Books.
Follow her on Twitter
Like her on Facebook