'Mrs. America' answers our burning question - 'How did we get here?'
Category:
Television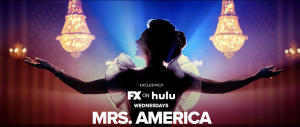 I was born and raised in Japan, the eternal Mad Men land, and I saw no bright future in the patriarchal and chauvinistic society. So I escaped to the Land of Opportunity! Since then my life experiences have been decidedly and drastically better than those in my motherland. I genuinely thought I had died and gone to heaven. So you can imagine my surprise when I previewed FX's fascinating eye-opener Mrs. America. I neither grew up here nor was around in the 1970s. I had no idea women's rights are still not constitutionally guaranteed!
Mrs. America, a thought-provoking limited series, tells the story of the movement to ratify the Equal Rights Amendment (ERA) and how the amendment was stopped in its tracks. The show contrasts the conservative women's movement led by Phyllis Schlafly with the feminist women's movement represented by the likes of Gloria Steinem. "What really struck me about all the women from this period was how messy they were. They're contradictory in nature. They quarrel. There's joy, there's love, and there's hate. I wanted to have all the characters contain multitudes," explained Creator/Showrunner Dahvi Waller at a press conference held early this year.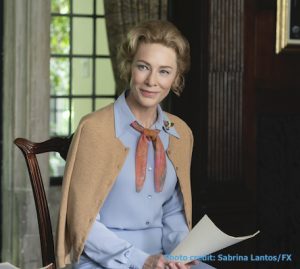 Phyllis Schlafly (Cate Blanchett) aka 'the sweetheart of the silent majority' was, indeed, a woman of contradictions. While she advocated 'pro family, pro life value' by projecting a perfect wife and mother at home, she stood on the shoulders of her successful lawyer husband to get into the good ole boys club in DC, where she dismissed as 'Godless leftist city.' She knew how to schmooze her way into her domain of military & defense strategy by tailoring her 'little ol' me' persona to neither antagonize nor intimidate high-ranking government officials and powerful industry leaders.
As a matter of fact, Schlafly ran for Congress twice, in 1952 and 1970, and lost both times. Waller took her failures to imply "she wasn't getting any traction in terms of defense strategy and managed to find a different way into the politics." This conservative activist emerged out of nowhere and created controversy when the ERA was about to get bipartisan support. She led the STOP (Stop Taking Our Privileges) ERA campaign and stopped the amendment in its tracks. The ERA is a constitutional amendment designed to guarantee equal legal rights for all American citizens, regardless of sex, but Schlafly argued that the measure would lead to gender-neutral bathrooms, same-sex marriage, and women in military combat, among other things.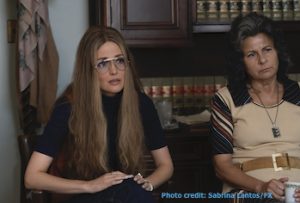 The other side of the decades of equal rights history is represented by lionized second wave feminists such as Gloria Steinem (Rose Byrne), Betty Friedan (Tracy Ullman), Bella Abzug (Margo Martindale), and Shirley Chisholm (Udo Aduba). And believe me they fought and argued about their vastly different agenda! Mrs. America shines a light on some sore spots and tensions (a lot of it!) within the pro-ERA women. Whatever side of the fence they were on, they were all flawed and of all different political, ethnic, and religious persuasions and socioeconomic backgrounds. No wonder they didn't have 'one voice' like the silent majority. They simply couldn't have.
The ERA is considered as one of the toughest battlegrounds in the culture wars of the 70s, but according to Waller the series is "like an origin story of today's culture wars, and you can draw a direct line from 1972 to today through Phyllis Schlafly and really understand how we became such a divided nation." Yikes! This skillfully interwoven story sure enlightened me as to how we got to the current 'unhappily divided place,' but at the same time it disappointed, distressed, and depressed me to no end. I was under the impression that I had moved to the most advanced country in the world that constitutionally guarantees equal legal rights for all Americans regardless of sex, but if that was merely my wishful thinking…where do we go from here? Does Virginia's vote to ratify the ERA mean it will be adopted as the 28th Amendment to the Constitution eventually? Experts say that an amendment that is already nearly a century in the making is not likely to end in 2020. Talking about the Constitution, I've always wondered why there is not a separation between church and state in this country's "democracy." I thought that is unconstitutional…Just saying. So many questions! So little time!
Mrs. America streams the first three episodes on April 15, 2020 and every Wednesday a new episode drops on FX on Hulu, the FX-labeled part of the streaming service.
About the Author
Meg Mimura is a TV critic who actually watches shows zealously in search of thought-provoking and paradigm shifting human drama worth our precious time. She is a member of Television Critics Association. Follow her on Twitter.
Editor's note: What is the ERA? This is exactly what it is: "Equality of rights under the law shall not be denied or abridged by the United States or by any state on account of sex."
For information about the ERA, click here.