Natalie Portman stars as 'Jackie'
Category:
Movies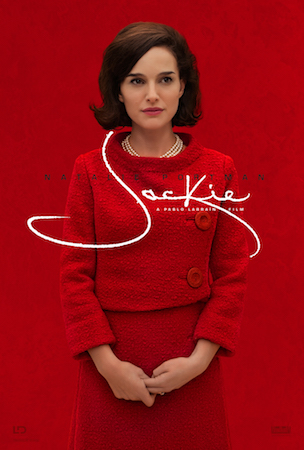 The era of Camelot was irrevocably shattered by a single bullet from the gun of assassin Lee Harvey Oswald on a balmy sunny date in Dallas. Anyone born prior to November 22, 1963 can vividly recall the images of the late President John F. Kennedy's morality wounded body cradled in the arms of his wife Jackie as the motorcade futilely headed for the hospital.
Chilean director Pablo Larrain revisits that most important and tragic moment of American history via a daring psychological portrait as seen from the perspective of the iconic First Lady, Jacqueline Bouvier Kennedy. Simply titled Jackie, Natalie Portman turns in an emotionally intense performance that easily eclipses her Academy Award win for director Darren Aronofsky's Black Swan where she played a young ballerina.
Portman confessed, however, some jitters about undertaking the eponymous role, "It's super dangerous. I was really scared of it because mimicking has never been my thing. You want to be believable first and foremost so that the audience buys into the person you say you are on screen. She's so well known – how she talks and her voice, and the way she moves," noted the 35-year old actress, who minus the hairstyle, makeup and wardrobe, bears only a passing physical resemblance to her onscreen alter ego.
With only a month's advance notice before the cameras started to roll in Paris last December, Portman embarked on a self described "speed course" of all things Jackie, including enlisting a dialect coach. "I read everything I could find, including a dozen "pulpy" biographies. "A lot of liberties were taken, but it was nice to get into the whole realm and see different people's point of views who knew her," stated Portman.
Conveniently the City of Lights provided the backdrop for the film's interior shots, since her husband, Benjamin Millepied was serving as director of dance for the Paris Opera Ballet. The production moved to Washington, D.C. in February to retrace the funeral procession steps.
"The most helpful wasn't really a biography, but rather the transcripts of her conversations with (Arthur) Schlesinger. It's amazing because it's word-to-word what they said to each other and there's tapes that accompany it so I could just hear her talking, using her private voice. Also found on Youtube is her White House interviews and tours, which I was also obsessive about because we replicated the 1962 network special A Tour of the White House with Mrs. John F. Kennedy filming shot for shot – the hesitations, the breaths, the mess ups. I wanted all of that to be the same."
Even in these intimate exchanges, chunks of time had been erased from the tapes apparently by Kennedy, who felt certain thoughts shouldn't be fodder for public consumption. While it was well documented that she corresponded with priests and experienced a crises of faith, to the point of flirting with the idea of suicide, the conversations replicated in Noah Oppenheim's screenplay took some liberties.
Larrain concentrated on a limited time period immediately following the assassination. In defense Portman contends, "Sometimes you can get more of a sense of a character when they're kinda in a crucible rather than telling a cradle to grave story."
The film also weighs heavily on the era of Camelot. How much did the Israel-born, Jericho, Long Island reared actress know about that era? "I had always heard the mythology and saw the Life magazine cover ,but never knew she came up with the idea. I thought someone else said they're like America's royals. For me it was a beautiful to experience. Her life prior to marrying JFK was really interesting. She was a journalist and I definitely think that influenced her. She was catching photos on the street of fashionable girls. While it wasn't as probing as the kind of journalism she would find herself on the other side of, I still think it gave her a lot of insight."
"I hadn't realized before how smart she was. She was ahead of her time. Now journalists writing on Twitter, Instantgram, Facebook or whatever know how they want to be perceived, but she was doing that 50 years ago and completely controlling what story was going to be told, and she understood that whoever tells the story is the one who makes history, not what actually happened that matters.
"She understood and took that fact into her own hands during an incredibly tragic mourning period to create that legacy which is astonishing. Everything that went on during the planning of the JFK Library was her design," said Portman with obvious admiration.
She continued, "She was also a real scholar of history and that was actually a big connection between her and JFK. He had her translate books from French to English so they could sit and talk about geeky history trivia together."
Art and history played a key role throughout the couple's residency in the White House. "She was like, 'Why is Abraham Lincoln's desk in a garage sale in the middle of nowhere?' And she tracked down all of the pieces that were important and returned them to their rightful place in the archives of American history."
This aesthetic appreciation for beauty also proved to be a marital bone of contention. Portman laughingly concedes, "She loved clothes and fabrics, and apparently she was always getting in trouble with Kennedy because she was spending a million dollars a year of clothes. She was wearing all couture and the President admonished her for it, 'The American people are gonna lose their minds, you gotta chill out."
Portman emphasized the irony of what was to follow by asking, "When someone loves beauty that much, then the ugliest thing in the world happens to them, how does that affect them?" she pondered during an interview at Manhattan's Peninsula Hotel.
A Broadway veteran, Portman also portrayed Padme Amidala in the Star Wars prequel trilogy. Expanding on both her career and personal life, she made her directorial debut last year with A Tale of Love and Darkness. It was also announced recently that Natalie and her husband are expecting a second child.
Jackie opens December 2, 2016.
About the Author
Winnie Bonelli is a former entertainment editor for a daily metropolitan New York City area newspaper. She is passionate about movies and television and loves to take readers behind the scenes.