New edgy and dark comedy 'Good Girls' premieres on NBC
Category:
Television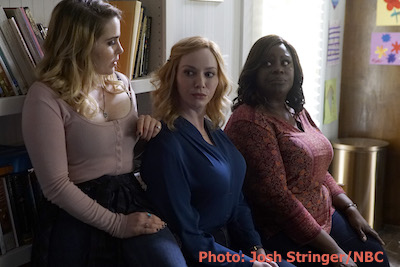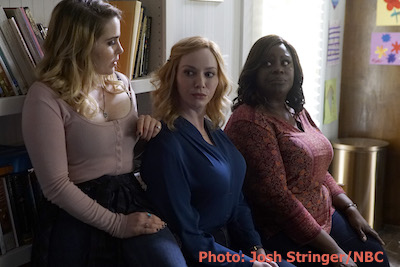 Just when women are done with playing nice, NBC's female-forward series Good Girls takes center stage.
Good Girls centers around three strapped suburban moms taking a walk on the wild side. Beth (Christina Hendricks) is a Stepford wife who wants to protect her four children and the family home from her lying, cheating husband. Beth's younger sister Annie (Mae Whitman) is a wild and irresponsible checkout girl who needs to grow up fast in order to win the custody battle of her daughter. Ruby (Retta) is a happily married waitress who needs $10,000 every month to treat her daughter's renal disease.
Their over-the-top, hysterical, and bizarre journey begins when they rob the grocery store where Annie works. It goes downhill fast and the "girls" try their best to go back to their normal lives – but what is "normal" anyway? The harder they try, the deeper they get sucked into the unsavory world of small-time crooks and dangerous criminals. Jenna Bans, Executive Producer, describes her edgy yet wildly entertaining creation as "the blend of comedy and desperation." No wonder it reminds me of Desperate Housewives (ABC 2004-2012) tinged with my recent obsession, Claws (TNT).
Desperate times call for desperate measures. I, myself, have been tempted to do something drastic to expose a cruddy family that turned our once clean, quiet, and peaceful triplex into a filthy ghetto. I'm blessed with a keen BS detector, but downright powerless against those who know how to work the system. I know life is not fair, but I don't like it when people get away with murder just because nobody's watching. The mere existence of this "who-gives-a-damn" family poses a threat to me physically, mentally, and emotionally. The neighborhood is menaced by their blatant disregard for the law and civility. I hear Judge Judy screaming, "If you don't like it, moooove!!!" in my head all the time. If only I could afford to. After my grievances were dismissed by the management company, what's a girl to do? Good girls are not raised to confront, you know?
At the press conference held early January, Whitman took a great delight in promising that the show would "give voices to people that haven't been able to have their voices heard before." Precisely. Not being heard has been my biggest pet peeve all my life. I am backed into a corner with nowhere to go and ready to explode even as I write this! Walking the fun tightrope between good and bad (illegal and immoral) with the girls will, no doubt, provide tremendous cathartic releases for me. I'll follow your lead, girls. Who knows? I might learn a thing or two about criminal mindset. After all, hoping for karma to kick in hasn't done me any good.
Good Girls premieres Monday, February 26, 2018 on NBC.
About the Author
Meg Mimura is a TV critic who actually watches shows zealously in search of human drama worth watching. She is a member of Television Critics Association as well as Academy of Television Arts and Sciences.