New Shows for Preschoolers
Category:
Television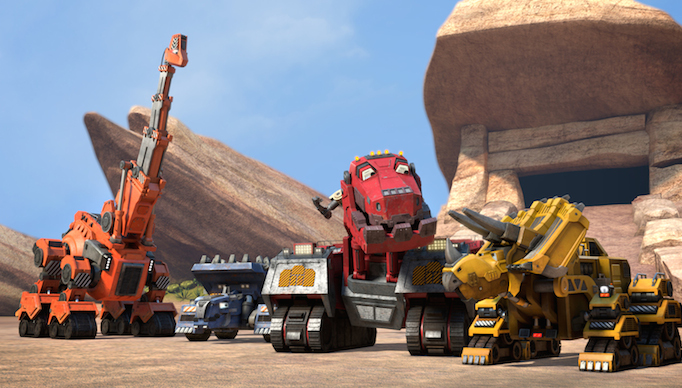 Several new shows designed for young viewers are premiering August 2015. "Dinotrux", "Wishenpoof", and "Shimmer and Shine" entertain young minds as well as impart valuable life lessons for preschoolers.
DINOTRUX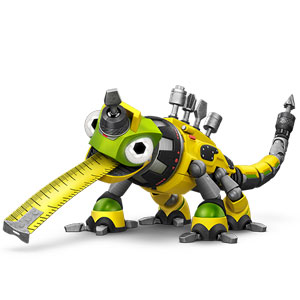 Netflix premiers their new animated show "Dinotrux" on August 14. Combining dinosaurs with vehicles, the characters in this series are not only cute, but they are also handy. The Dinotrux and the Reptools (reptiles and tools) work together to build a friendly community. "The story is the unlikely friendship of the biggest and the smallest, a T-Trux and a Reptool, and how their friendship changes the world," explained executive in charge of production Gregg Goldin. "The heart of it is making sure we have lovable characters, lots of adventure, and lots of laughs. There are ingredients for everybody on the show."
The concept of the show boggles the mind. This is indeed a very creative series filled with imagination. It's set in the "Mechazoic Era" which has all the rules of the world we know, with a twist – the combination of talking factual animals with inanimate objects.
The show focuses on teamwork and the concepts important to today's kids like sharing, respect, and cooperation. While it might seem like the show would appeal mainly to young boys, there are some female characters that will catch the eyes of little girls.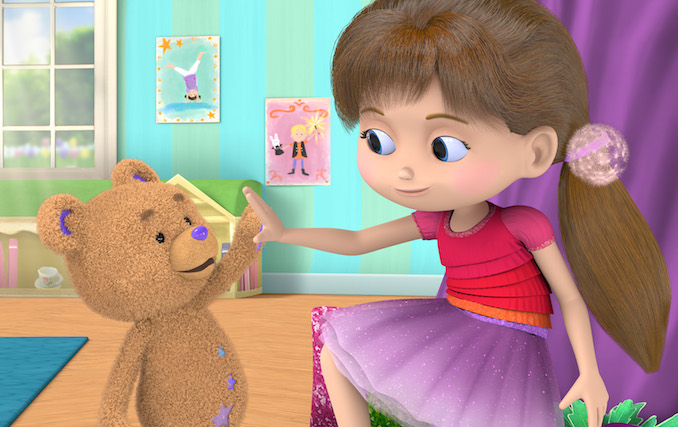 WISHENPOOF
The new Amazon original animated series "Wishenpoof" premiers August 14 with 13 episodes filled with fun and some magic – the magic of Wishen-poof. Young Bianca has the magic, as does her mother. Unfortunately, her father and younger brother Ben do not. But Bianca learns that magic isn't necessary to help people, and in the first episode she discovers that she doesn't need to rely on her magic to help her friends believe in themselves.
The series incorporates the seven essential life skills framework: self-control, perspective taking, communicating, creativity, critical thinking, taking on challenge, and self-directed engaged learning. "Bianca is a great role model for younger children, enabling them to take into account others' perspectives and make good choices," explains Tara Sorensen, Head of Kids Programming at Amazon Studios.
Along with her stuffed bear Bob, to whom she has given life (think of Ted without the R rating), Bianca fills every episode with fun as she magically, and often not magically, helps her friends fulfill their wishes and conquer their fears. This is definitely a cute show with imagination that might have your own preschooler yearning for the magic of Wishenpoof.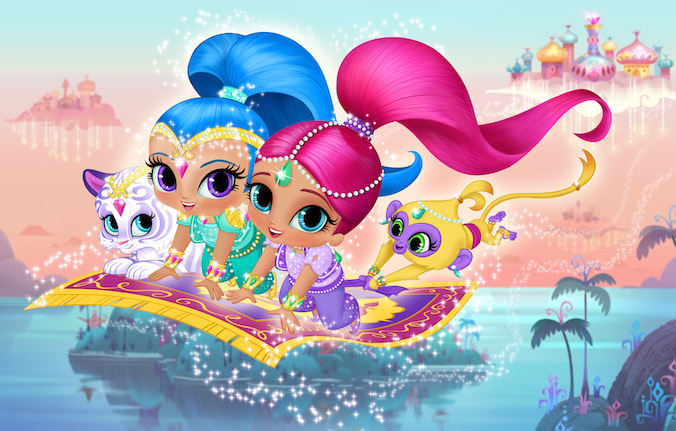 SHIMMER AND SHINE
Another magical animated series, "Shimmer and Shine", premiers August 17 on Nickelodeon. The show focuses on a young girl, Leah, who has a secret. She has twin genies, Shimmer and Shine, who grant her three wishes a day. The thing is, they don't always get things right. After all, they are kind of new at this as they are genies-in-training. Even with all their mishaps, they manage to make their way through their dilemmas.
"The beautiful fantasy world of "Shimmer and Shine" offers endless possibilities for magical adventures and preschoolers will love the genies' playful humor and enthusiasm," said Russell Hicks, Nickelodeon's President of Content Development and Production.
The series has a social-emotional curriculum featuring teamwork, resilience, and overcoming obstacles. "In each episode, our girls are faced with obstacles that they have to work together to overcome. As a mother of two young kids, I see how important it is to help empower our children with an understanding of resilience. Through the series, we help kids see that even though the outcome may not be exactly what they wished for, there is always a way to figure things out," explained creator Farnaz Esnaashari-Charmatz.
Leah's friend Zac provides a lot of the comic relief, and a male character to make the episodes appealing to young boys as well as girls. And with the twins' monkey and cat, there are plenty of characters to adore in this entertaining show.
About the Author
Francine Brokaw has been covering all aspects of the entertainment business for 20 years. She also writes about technology and has been a travel writer for the past 12 years. She has been published in national and international newspapers and magazines as well as internet websites. She has written her own book, Beyond the Red Carpet The World of Entertainment Journalists, from Sourced Media Books.
Follow her on Twitter
Like her on Facebook