Norbert Books GIVEAWAY
Category:
Giveaways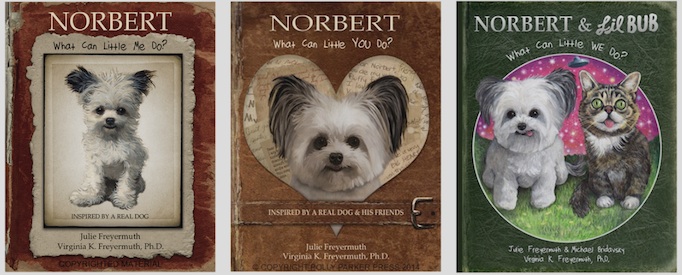 Norbert is a one-of-a kind mixed breed, 3-lb registered therapy dog, social media influencer, philanthropist, star of the international award-winning picture book Norbert:What Can Little Me Do?, and world-famous high-fiver.
As the dog-in-charge of 'Noberthood for Good,' his mission is to bring smiles to people around the globe through his charitable donations, volunteer work and caring connections with others. He believes that you don't need to be big to make a big difference in the world.
As one of the internet's most popular therapy dogs, Norbert has worked on a variety of awareness and branding projects with major National Brands and Non-Profit Organizations such as the Walt Disney Company, iTunes, Hilton Hotels, Natural Balance, PetSmart, and The American Kennel Club.
Norbert is the star and inspiration behind the picture book series featuring titles that include Norbert: What Can Little Me Do?, Norbert: What Can Little YOU Do?, and Norbert: & Lil Bub: What Can Little WE Do?  Created by author Julie Freyermuth (Norbert's Mommy), illustrated by Virginia K. Freyermuth, Ph.D. and published by Polly Parker Press LLC, a mother-daughter-owned independent publishing & education company, Norbert has won nine prestigious book awards including a Nautilus Book Award, Mom's Choice Award, Next Generation Indie Book Award and Independent Book Publishers Awards.
We have some of Norbert's books to giveaway!
To be eligible to win a copy of a Norbert book, email us at [email protected] with "Norbert Giveaway" in the title. Please supply your name, address, phone number and email address (so we can let you know if you are a winner).
The deadline for this giveaway is April 1, 2016.