Norbert Unveils His Norbert Plush
Category:
Activities, Performances, & Events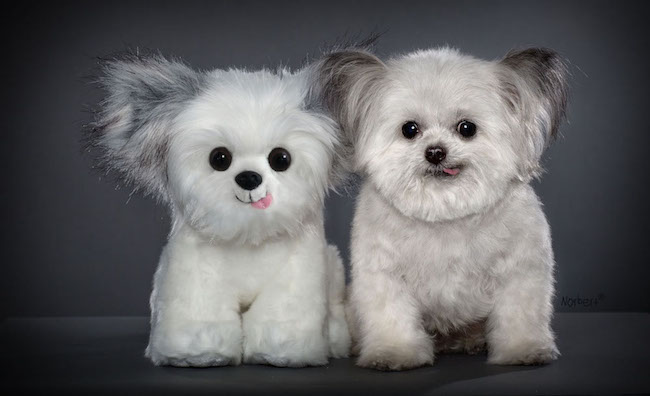 Norbert is a 3-pound therapy dog that has been making news around the country. Along with his mom, Julie Freyermuth, Norbert visits hospitals, nursing homes, and other places to put smiles on people's faces, and he definitely does that everywhere he goes. Norbert also "wrote" three books and has his own Facebook and Twitter accounts. His newest endeavor is a plush life-size version himself. After all, who doesn't want their own Norbert?
Being the philanthropist he is, Norbert – and Julie – isn't just producing a cuddly version of himself for all his fans. There is an added bonus to his plush doppelganger. For every Norbert Plush purchased, one will also be donated to a child in need via Toys for Tots!
"Norberthood for Good" is the philanthropy division of his business. "By partnering with Toys for Tots, we extend Norbert's 'buy one, donate one' campaign to bring happiness to children in need who do not have the opportunity to own their own puppy or who could use a toy to hug and hold," says Julie.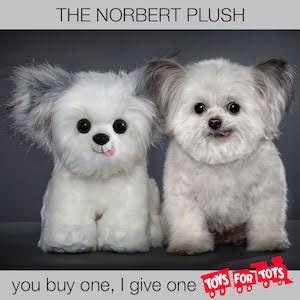 "We are very pleased to welcome Noberthood for Good as a national corporate donor of the 2016 Marine Toys for Tots Campaign," said retired Marine Colonel Ted Silvester, vice president of the Marine Toys for Tots Foundation. "Their community service goals certainly align with those the Marine Corps has promoted for over 68 years through our Toys for Tots Program." Silvester concluded, "With their generous support we will be able to fulfill the Christmas holiday dreams of many less fortunate children, who otherwise might be forgotten."
Besides visiting hospitals, etc., Norbert supports various organizations and charities, including Pet Partners®, Intermountain Therapy Animals, Just for Kids Sake Foundation, Lil BUB's BIG FUND for the ASPCA, the Children's Melanoma Prevention Foundation and Boot Campaign, a military nonprofit. His books have won several awards.
To find out more about this adorable little fellow, visit his website and follow him on Facebook, on Instagram, on Twitter, and on Youtube.
Simply put, this little guy is adorable and his face can't help but cheer you up when you're down. He's cuddly and sweet, and definitely a dog that is easy to love. Everyone should have a Norbert, but since he is one of a kind, the plush version is almost the next best thing. If they ever find a way to clone this furry fellow, I am putting my order in for my own Norbert.
To purchase the Norbert Plush, visit his website.
About the Author
Francine Brokaw has been covering all aspects of the entertainment industry for 20 years. She also writes about products and travel. She has been published in national and international newspapers and magazines as well as Internet websites. She has written her own book, Beyond the Red Carpet The World of Entertainment Journalists, from Sourced Media Books.
Follow her on Twitter