'On Becoming a God in Central Florida' taps into our own desperation and exhaustion in the Trump-era zeitgeist
Category:
Television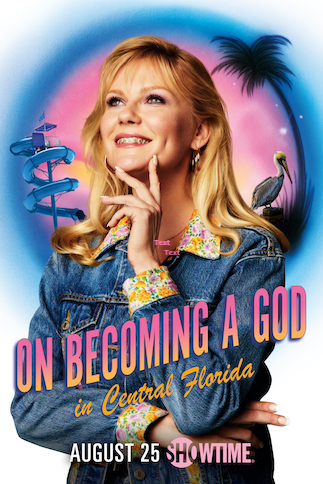 Kirsten Dunst plays Krystal Stubbs, a minimum wage water park employee who figuratively loses her husband to the cult of free enterprise in On Becoming a God in Central Florida. This dark comedy follows Krystal's relentless pursuit of the American Dream within and without the multi-billion dollar pyramid scheme, Founders America Merchandise (FAM).
"There's so much rage within Krystal that I feel like I don't necessarily always get to express in characters," said Dunst at a press conference early August. Having given birth last year, she channeled her utter exhaustion into her character. "Krystal's working so hard. She's so tired. You just kind of put everything you have into it and be the most emotionally vulnerable you can so that you connect with your audience."
Travis Stubbs (Alexander Skarsgård) quits his steady sales job and works day and night to climb the ranks of FAM. After his unfortunate death, Krystal quickly finds out that Travis had spent much more than he actually made. Bombarded with bills and debts, she has no choice but to pick up the pieces for her baby.
When FAM's loyal and rabid follower Cody (Théodore Pellerin) inherits Krystal as one of his downlines, she develops a tangled relationship with him to get deep into this be-your-own-boss trap. She cons, schemes, blackmails, and manipulates to break free of the clutches of FAM. Little does she know, her scheme to take down the cult leader Obie Garbeau II (Ted Levine) would end up preying on her precious friends.
Robert Funke and Matt Lutsky, co-creators of On Becoming a God in Central Florida, did an intensive research on cults and decided to expose how their brainwashing and predatory practice ruin the most precious relationships. It's about time somebody exposes the true nature of pyramid schemes/cults that exploit insecure and vulnerable people.
"There was something kind of moving and sad about the whole thing," admitted Dunst about getting teary-eyed while practicing a puppet dance in Episode 2. Krystal tries so hard!! So do many decent hard-working people here and now. We are no better off than these Floridians were almost thirty years ago. Funke believes that "this show really lives in the world of people just trying to be happy in their daily lives, and they're being preyed on."
Although Krystal's journey takes place in a small Orlando-adjacent town in 1992, On Becoming a God in Central Florida certainly taps into our own desperation and exhaustion to stay afloat and sane in the Trump-era zeitgeist. Not only amoral one-percenters but also self-serving criminals run this country for their own gain while 'law-abiding citizens' are punished because we do not believe in winning at all cost. Whether it's a bully next door or in the White House, no matter how hard we try, we just cannot bring them to justice.
"I realize it's all right the world is crazy as long as I make my little corner of the world sane," said my role model Diane Lockhart (The Good Fight Season 2). Her wisdom was uplifting enough to last a while, but I'm afraid I'd lost the last piece of my sanity sometime early this year. I am exhausted fighting the evil in every corner of my life. My worst self is short-tempered, anxious, and gets controlling about stupid things. Watching Krystal's crusade against the predators might be just what the doctor ordered for my desperation, rage, and exhaustion.
On Becoming a God in Central Florida premieres Sunday, August 25 on Showtime.

About the Author
Meg Mimura is a TV critic who actually watches shows zealously in search of thought-provoking and paradigm shifting human drama worth our precious time. She is a member of Television Critics Association. Follow her on Twitter.
Photo Credit: Liz Von Hoene /SHOWTIME.