'Once Upon a Time in Venice' Movie Review
Category:
Movies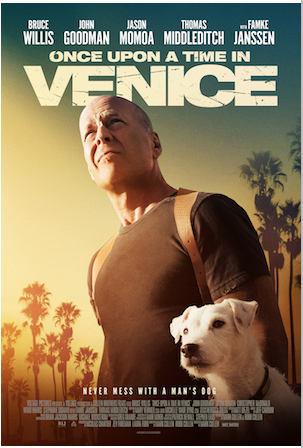 Bruce Willis stars in Once Upon a Time in Venice, a film that had the promise of being a fun and entertaining movie, but falls short of that. Willis plays P.I. Steve Ford in Venice, California. He finds himself in several strange and awkward situations.
Ford is no Magnum, P.I., but he does manage to come out on top. When his dog Buddy is stolen, that's the last straw for this man. His main focus now is getting his dog back, but he cannot let his other clients down in the meantime. Luckily for Ford, everything and every one tie together so while on the trail of Buddy, he also helps solve other cases.
Along the way to retrieving his beloved pooch, Ford makes a bargain with the leader of the most devilish gang in the area. Spyder (Jason Momoa) has a soft spot, even though he is a gangster, drug dealer, and thief. He is also a man of his word. He has some scruples.
Ford follows one lead after another, and during this time he catches up with Buddy several times, but then things fall apart. To finally get his best friend back, Ford has to do some unsavory things, like stealing a shipment of cocaine to trade for his dog. But dogs are mans best friend so Ford has no qualms about doing anything to get back Buddy.
With the help of his surfer dude friend (John Goodman), they manage some pretty interesting swaps and Goodman's character of Dave is the comic relief in the film. He has some pretty cute scenes and is the salvation of the movie. Well, him and Buddy. Let's face it, films about dogs are endearing – most of the time – unless the dog dies. But don't worry, Buddy is very much alive and happy at the end of the film, even though there are plenty of gunfights along the way.
Once Upon a Time in Venice could have been a very entertaining film. Unfortunately, it isn't. If you don't have high expectations for this film, then you might enjoy it. The movie opens June 16, 2017.
About the Author
Francine Brokaw has been covering all aspects of the entertainment industry for over 20 years. She also writes about products and travel. She has been published in national and international newspapers and magazines as well as Internet websites. She has written her own book, Beyond the Red Carpet The World of Entertainment Journalists, from Sourced Media Books.
Follow her on Twitter