'Onward' is a fun, silly, and emotional family journey
Category:
Movies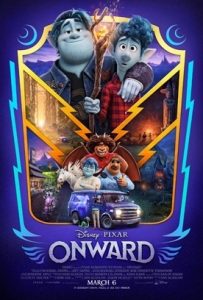 Disney/Pixar's newest animated film Onward takes audiences through a journey filled with fun as well as emotions. This is a fantasy story with magic however at the heart of the film is family love.
Tom Holland voices Ian Lightfoot and Chris Pratt voices his brother Barley, with their mother voiced by Julia Louis-Dreyfus. It is definitely Disney/Pixar magic to see the animated brothers because they look just like their human counterparts.
Ian is a squirrelly little guy with no self-confidence. Barley is a go-get-em guy who has no qualms about trying anything. Their father died before Ian was born so Ian has no memory of his dad and sad that he never knew him. Barley is a proficient game player, which comes in handy during their quest.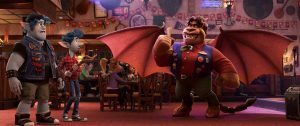 So, the story revolves not only around the elf brothers (did I forget to mention they are elfs?) but also around magic. Years ago magic was the way of life but as technology advanced and took over all the magic in the land ceased. But it is still there, somewhere.
Upon Ian's 16th birthday, his mother gives her boys a gift from beyond. Before dying, the father wrote a spell that could conjure him up for one day so he could meet Ian and see how his boys had grown up. But the catch is someone has to have the magic powers – and the magic wizard staff – to complete the spell. While Barley tries, it is Ian who shows he has the magic deep within him. However, while conjuring up his dad, there is a little glitch and only half of the man comes back to life – the bottom half.
The boys embark on a magical journey to get the stone needed to complete the spell and bring back the full body of their father.
This is a sweet and sentimental story underneath the antics of the boys. It is an intriguing thought to be able to spend one day with a loved one who has passed on. Both boys have lists of what they want to do with their dad if he came back for a day. And during their quest to complete the spell, they learn more about each other in the 24 hours than they have in all of Ian's 16 years.
Onward is a fun, fantasy, family adventure that is filled with delightful family love however it is a little bittersweet at the same time.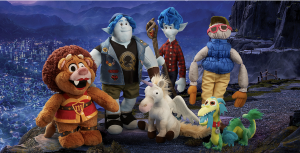 And once audiences leave the theater, youngsters will undoubtedly be asking for some Onward merchandise. Disney doesn't disappoint.  There is a plush Ian, Barley, Blazy (their pet dragon), Wildon Lightfood (the father), unicorn, and Manticore (voiced by Octavia Spencer in the film). There are play sets and clothing and definitely a Wizard Staff, which all kids will want to own so they can practice their own magic. Check out shopDisney.com for these items after watching the movie.
Onward is rated PG for action/peril and some mild thematic elements. It opens in theaters March 6, 2020.
About the Author
Francine Brokaw has been covering all aspects of the entertainment industry for over 25 years. She also writes about products and travel. She has been published in national and international newspapers and magazines as well as Internet websites. She has written her own book, Beyond the Red Carpet The World of Entertainment Journalists, from Sourced Media Books, is the entertainment correspondent for Good Day Orange County, and has her own TV show, Beyond the Red Carpet, on Village Television in Orange County. Follow her on Twitter.