Prince Harry's Meghan Markle stars in 'Dater's Handbook'
Category:
Television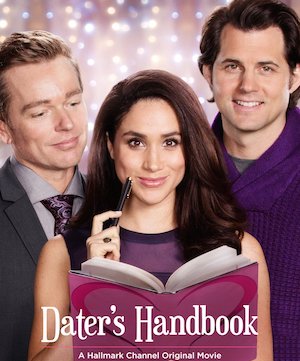 Perhaps you have heard of her. Her name is Meghan Markle. She's an American actress and the fiancé of Prince Harry. Markle has been appearing in the TV series Suitssince 2011. She also had roles in other shows and films. And in 2016 she starred in Dater's Handbook, a cute romantic comedy that is being re-aired on Hallmark Channel on May 19th, along with other royal-related Hallmark Channel movies. May 19, 2018, just happens to be the day of the big royal wedding.
In Dater's Handbook, Markle stars as Cass, a strong-minded businesswoman who happens to have a history of choosing the wrong men. Her sister insists she try going by the new book, Dater's Handbook, which helps women break the habit of falling for the wrong men. Well, with her track record she's up for anything.
Cass meets Robert (Kristoffer Polaha), a down-to-earth, fun, interesting, and adorable man. They hit it off immediately. She feels the sparks between them, but then her client George (Jonathan Scarfe) asks her out. Well, why not? According to the handbook, she should keep her options open. George is the opposite of Robert. He's stuffy and a bit pretentious. He prefers champagne while Robert goes for beer. But, according to her sister, George checks off all the boxes in the handbook. So, Cass dismisses her feelings for Robert and decides to go with the advice of Dr. Susie's (Teryl Rothery) dating guide.
Markle is fun to watch in this film, and knowing what her future holds it's an interesting look at the woman who has become a major player in the world. The "Markle Sparkle" is infecting the world, and people everywhere miss Diana even more when there is an event in her family she would have enjoyed. And the wedding of Prince Harry is definitely an event that Diana would have loved being a part of.
Celebrate the royal wedding with the bride herself when Hallmark Channel rebroadcasts Dater's Handbook on May 19,2018 followed by Royal Matchmaker (starring Joy Lenz and Will Kemp), Once Upon a Prince (starring Megan Park and Jonathan Keltz), Royal Heart (starring James Brolin, Cindy Busby, and Andrew Cooper), and the world premiere of Royally Ever After (starring Fiona Gubelmann and Torrance Coombs).
About the Author
Francine Brokaw has been covering all aspects of the entertainment industry for over 20 years. She also writes about products and travel. She has been published in national and international newspapers and magazines as well as Internet websites. She has written her own book, Beyond the Red Carpet The World of Entertainment Journalists, from Sourced Media Books.
Follow her on Twitter