'Quackerz' – Movie Review
Category:
Movies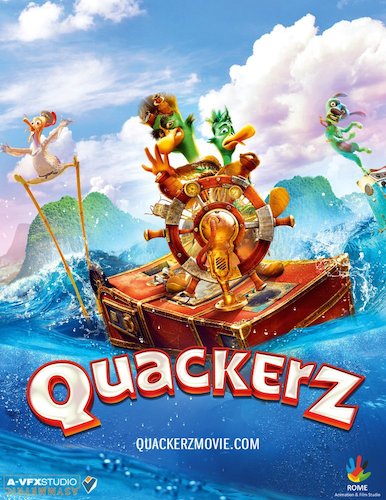 When two very different groups of ducks come together, they provide some interesting and funny scenes for audiences, plus, there is a little bit of a Romeo and Juliet theme going on, minus the suicides. Quackerz takes audiences into a colorful animated world where ducks are the keepers of the sun. Well, not all ducks. Just the Mandarin ducks.
The Mandarin ducks live on a small island in China. Unbeknownst to little Longway, the Emperor's son, he is the "Sun Duck" whose legacy it is to save the sun from going out. Unfortunately, according to the lore, he will die in the process, so his father keeps this all a secret from the little fellow, and doesn't let anyone in the flock learn to fly, hoping this will save his son's life.
Longway is bored. All he is allowed to do all day is to play his video games.
When a flock of Mallards mistakes the island for Hawaii, they encounter the Mandarin ducks. Unfortunately, the two groups don't get along. The Emperor calls the Mallard General "stupid and fat."
The General's daughter Erica is a feisty, freethinking, fun loving duck who has been around the world. She longs for one place to call home. That's the opposite of Longway, but the two hit it off and their forbidden relationship doesn't stop them for being together.
As guardians of the sun, the Mandarin ducks are tasked with saving the earth against the evil witch of darkness. She hires two bumbling thieves to kidnap – or I should say ducknap – Longway to keep him from saving the planet. She has the power to shrink the sun and destroy life, and Longway has the power to save everyone.
It ultimately comes down to the fact that the two duck groups, the peaceful Mandarins and the military Mallards must work together for the sake of the planet.
There are some pretty cool CGI scenes with exquisite scenery. Besides the basic story, some cute lines and adorable expressions by the ducks make this an amusing animated film for kids. Granted, it's not an award-winning caliber animated film, but it does have some cute qualities and a pretty fun hero in Longway.
Quackerz opens in theaters June 3, 2016 and will be available on VOD, a Blu-ray Combo Pack, and DVD June 14. It's rated PG for rude and suggestive humor, and some action.
About the Author
Francine Brokaw has been covering all aspects of the entertainment industry for 20 years. She also writes about products and travel. She has been published in national and international newspapers and magazines as well as Internet websites. She has written her own book, Beyond the Red Carpet The World of Entertainment Journalists, from Sourced Media Books.
Follow her on Twitter