'Ralph Breaks the Internet' – Movie Review
Category:
Movies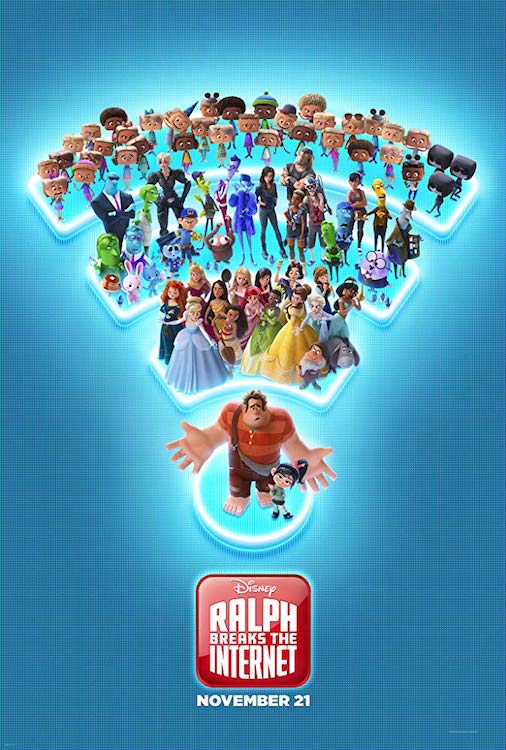 The sequel to the hit Disney animated film Wreck it Ralph (2012) has Ralph and Vanellope on another high-octane adventure. This time they leave the haven of Litwak's arcade and venture into the wide, wide world of the Internet. Ralph Breaks the Internet is filled with humor, heart, and a lot of Disney imagination.
"Ralph and Vanellope are imperfect characters," says Academy Award®-winning director Rich Moore, who directed the original film. "But we love them because of their flaws. Their friendship is so genuine—the chemistry between them so engaging—that I think we were all anxious to know more about these characters."
In their newest adventure, to save Vanellope's game from being shut down, they have to find a replacement steering wheel, which is only available on eBay. So off they go into the world of eBay and all the sites that live in the vastness of the Internet. Audiences will recognize some of their favorite sites (eBay, Instagram, Amazon, Snapchat, and more). One of those sites is Oh My Disney and the princesses we all know and love are there. Vanellope is a princess so she joins the group.
"Putting Vanellope in a room with all of the Disney princesses was funny from the get-go, considering her unapologetic personality and laid-back outlook," says director Phil Johnston. "As the story evolved, the scene changed considerably to best serve the story, which was imperative. And as it turned out, Vanellope is on a coming-of-age journey, so her encounter with the princesses was integral to the completion of her arc in the film."
All the princesses (with the exception of Sofia and Elena) are gathered together. They make an impression on Vanellope and she has a large influence on them as well. Pay close attention to the clothes they wear once they change out of their gowns. Cinderella's shirt has a pumpkin carriage, Merida's tank top has a bear, Aurora's shirt says "Nap Queen," Pocahontas' has a wolf, Elsa's says "Just Let it Go," Tiana's says "NOLA," Ariel's says "Gizmos & Whos-Its & Whats Its & Snarfblats & Dinglehoppers," Rapunzel's has a duck, Moana's says "#shiny," Belle's says "BFF, Beast Friends Forever," Mulan has a Chinese motif, Jasmine's has three fingers and "wishes," and Snow White's has a poison apple. They are clever and adorable as each reflects the story of the wearer.
The filmmakers had the original voice talent return to the studio to bring their characters to life. The reunion included Irene Bedard (Pocahontas), Kristen Bell (Anna), Jodi Benson (Ariel), Auli'i Cravalho (Moana), Linda Larkin (Jasmine) Kelly Macdonald Merida) Idina Menzel (Elsa) Mandy Moore (Rapunzel) Paige O'Hara (Belle), Anika Noni Rose (Tiana) and Ming-Na Wen (Mulan). "We were able to get just about everyone who's still with us to reprise their roles," says Johnston. This is just one small part of the story, however.
The movie is about the friendship between Ralph and Vanellope. They are two very different characters who love each other but who want different things out of life. This is the bittersweet part of the film.
"We're exploring the reality of all relationships, which come with ups and downs. Friendships are tested from time to time, and Ralph and Vanellope have to navigate the complexity of theirs—while attempting to navigate the vast and often intimidating Internet," explained Johnston. Director Rich Moore said, "They're like a couple of small-town kids who venture into the big city. One falls in love with the city, while the other one can't wait to go home."
So, as the humor on the screen and the fun of the Disney characters as well as the websites appear, Ralph and Vanellope each find something different in the net. Vanellope discovers the Slaughter Race game where she can show off her racing skills, and Ralph is overwhelmed by it all and afraid of not getting what they came for and getting back to the arcade in time.
The bottom line is Ralph Breaks the Internet is a fun, imaginative, endearing movie that will touch your heart as well as your funny bone. It's a wonderful sequel to the first imaginative and entertaining film. And with all the characters, it's a movie that will be loved by all ages.  It's a lot of fun! The movie is rated PG for some action and rude humor.
When the movie is over, stay for the credits because there is a cute little bonus!
About the Author
Francine Brokaw has been covering all aspects of the entertainment industry for over 25 years. She also writes about products and travel. She has been published in national and international newspapers and magazines as well as Internet websites. She has written her own book, Beyond the Red Carpet The World of Entertainment Journalists, from Sourced Media Books.
Follow her on Twitter