'Royal Pains' Comes to an End
Category:
Television


When USA network television viewers first met Dr. Hank Lawson (played by Mark Feuerstein), he was unfairly relieved from his position in the Emergency Room of a prestigious Manhattan hospital after a wealthy benefactor died in his care.
Eight seasons, several trips to exotic locales such as Hong Kong, Budapest, and France, and 104 episodes later, the Hamptons' "concierge doctor" takes down his shingle, but not before Royal Pains creator Andrew Lenchewski and fellow executive producer Michal Rauch manage to tie up any loose ends.
"We were very fortunate, because after season six USA let us know that season eight would be the last. It gave us the opportunity to complete the stories and say a proper good-bye to our long time fans. And instead of an end, I think the storylines give each of our characters a new beginning," stated Lenchewski during a telephone interview.  To divulge any specifics would be a disservice to the nearly six million fans expected to tune into the finale Wednesday, July 7, 2016.
When initially scouting locations, Lenchewski only had to stroll down Main Street in South Hampton to know this would be home for the beloved drama series. "We were really blessed. The residents welcomed us with open arms, even when we had to temporarily stop traffic or make them walk on the opposite side of the street.
Rauch continued, "We fostered many lasting relationships. It's impossible to cite one or two incidences that stand out in our memories, because there are so many. The residents repeatedly told us how proud they were of the show. To us, these were magical encounters."
Aside from the Hamptons, Royal Pains took full advantage of familiar area sights. For example, several scenes were shot on the bay side of Point Lookout, while other places included the Northport Village in the Town of Huntington, Old Westbury Gardens, Freeport's Nautical Mile, and Oyster Bay Town Hall, which was transformed into the entrance of the Hamptons Heritage Hospital emergency room, while several beach scenes were filmed at West Neck Beach in Huntington.
Doubling as the Hamptons' home of Boris, the Russian nobleman, who offers his guest house to Hank and brother Evan, is Oheka Castle that actually sits 60 miles west of the affluent resort community.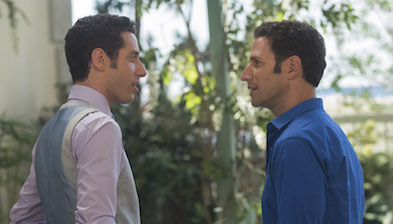 Feuerstein interjected, "I never dreamed we'd go eight seasons, I thought maybe three. Eight is the Holy Grail in TV. My favorite scenes, aside from physically fighting with Paulo Costanzo, who played my brother Evan, was getting to put my father, playing an ice cream man, in the series. And the guy who's yelling about his plane being stolen in episode three of season eight is my real brother. It's perfect casting if you knew my brother."
Admittedly a bittersweet moment, Feuerstein summed up his feelings, "It's been the ride of my life and the greatest job of my career.  I couldn't have had it without our dedicated fans."
About the Author
Winnie Bonelli is a former entertainment editor for a daily metropolitan New York City area newspaper. She is passionate about movies and television and loves to take readers behind the scenes.