Saving Mr. Banks - Movie Review
Category:
Movies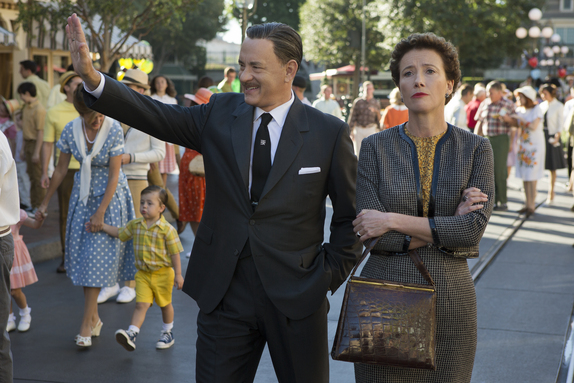 With the 50th anniversary of the production of Mary Poppins, Disney Studios is bringing the backstory of the film to audiences. You would think that the author of the Mary Poppins books, P.L. Travers, would jump at the chance to have her beloved characters turned into a Disney movie. But that was not the case. Saving Mr. Banks is the story of P.L. Travers, her life, and her association with the Disney studios, and Walt Disney in particular.
The film vacillates between P.L. Travers' life as a young child growing up in Australia with her parents and sisters, and her life in the 1960s. As a young girl she had imaginative father, Travers Goff, who was a banker but more important to his life was his love of alcohol and his family. His work came in a distant third. His love of drink caused enormous strain for his family, but his childish imagination entertained his young daughters, especially Helen, who would later take on the pseudonym Pamela Lyndon Travers, aka P.L. Travers.
The film toggles between her childhood, which was dark and filled with controversy, and her adult life when she was being wooed by Walt Disney to buy the Mary Poppins character and story. P.L. Travers is beautifully played by Emma Thompson who brings a stuffy, British, arrogance to the character. And Walt Disney is delightfully played by Tom Hanks, who brings a witty, curious, and even childlike quality to the character.
Colin Farrell plays Travers Goff, with a childlike quality as well, however his alcoholism is what takes over his life. A fun character is Ralph (Paul Giamatti), Travers' chauffer in Los Angeles. His is the most relatable character.
So, when Pamela Travers comes to California to meet with the folks at Disney, she balks at everything. She does not want her characters to be turned into a movie, and definitely doesn't want any animation in the film. The Sherman brothers (Jason Schwartzman and B.J. Novak) bend over backwards to please this seemingly unpleasable woman. They write and rewrite the songs, the scenes, and the characters. But will they ever please her?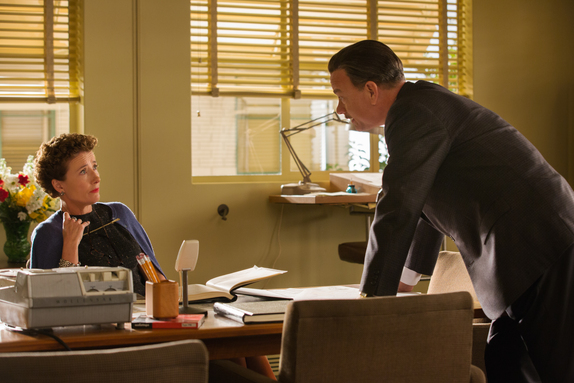 And Walt Disney goes above and beyond his usual dealings to fulfill a promise he made to his daughters years ago to make a movie of Mary Poppins, the books they loved to read as children.
There are many delightful scenes in this film, and all of them are when the story is taking place in Los Angeles. The California scenes are cute, filled with angst as well as plenty of humor and music, and the Australia scenes are dark and gritty. My personal choice would have been to show the scenes chronologically, but the filmmakers didn't ask my opinion. So, we are left with scenes of sadness alternating between scenes of humor and music.
P.L. Travers is a unique woman who sees "pink clouds" on the trees filled with Cherry Blossoms. She guards the characters she created with a motherly love. And, as the filmmakers realize where that dedication is coming from, they manage to create a story and songs she can finally approve. And, fifty years later Mary Poppins is still a beloved movie for generations of viewers.
Saving Mr. Banks is rated PG-13 for thematic elements including some unsettling images. I wouldn't recommend this film to young kids. The film opens in select theaters December 13, 2013 with a wider release December 20, 2013.
About the Author
Francine Brokaw has been covering all aspects of the entertainment business for 20 years. She also writes about technology and has been a travel writer for the past 12 years. She has been published in national and international newspapers and magazines as well as Internet websites. She has written her own book, Beyond the Red Carpet: The World of Entertainment Journalists, from Sourced Media Books.
Follow her on Twitter
Like her on Facebook