Sesame Street Turns 45
Category:
Television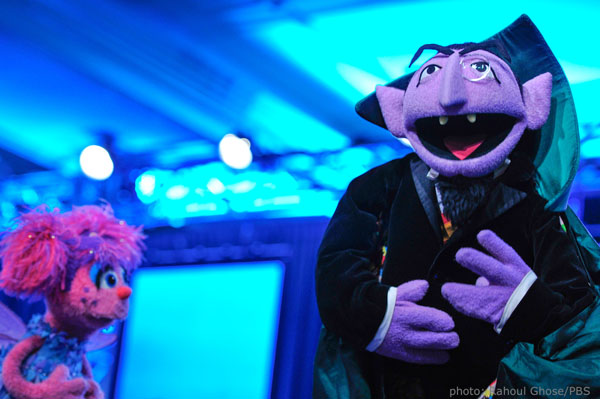 Sesame Street is having its 45th anniversary this year. 45 years of teaching and entertaining young minds is quite an accomplishment. Who hasn't seen an episode of the iconic show or grown up with Cookie Monster and Big Bird? The characters have become part of our lexicon, and big parts of our childhoods.
Lesli Rotenberg explained to the Television Critics Association recently, "With each new season, Sesame Street continues to help kids develop the new skills they need to prepare them for school and for life. Kids who watch Sesame Street are growing up smarter, stronger, and kinder. The street everyone knows will also have a brighter new look this season and star power that is equally dazzling. Famous faces of TV, film, and music including Tina Fey, Seth Meyers, Sir Ian McKellen, Macklemore and One Direction will be joining in on the fun. Sesame Street has so much in store for Season 45."
Executive Producer Carol-Lynn Parente said, "The characters for sure are iconic, and I think the genius of them, when they were created, is that they are still relevant today, but that neighborhood and that environment, it's one of the rare things in children's television is that those puppets are alive. And we compete a lot against animation, but there's something about that, knowing that, you know, Elmo and Cookie Monster and Murray can look at you, you know. They are alive, and they are on this real neighborhood, and that it's a real play date. We think of that. We think of the show as a play date for the audience."
When the characters came into the room, it was as if the gathered journalists reverted to their childhoods. It was fun and the Muppets captivated everyone. Muppets are real to those who see them, even though we know they are not flesh and blood and we can see the people behind the fur. But looking into the face of Abby Cadabby can't help but put a smile on anyone's face, whether they are young or old. There is something special about these characters that transcends our intellectual reasoning. They are Muppets. They are characters we know and love.
When celebrities come to the famous street they all revert to their childhoods. There is magic there, with the locals and the characters. Sesame Street has hosted astronauts, singers, First Ladies, athletes, musicians, and more. From Amy Adams to Trisha Yearwood, from Wendy Williams to Venus Williams, Barbara Walters, Oprah Winfrey, Barbara Bush, Laura Bush, Hillary Clinton, Michelle Obama, Donny Osmond, Sally Ride, Carrie Underwood, Blair Underwood, etc. The list of people who have visited Sesame Street is long and impressive.
A lot has happened since Sesame Street first aired in 1969. At that time the country was reeling from two horrific assassinations the previous year. Martin Luther King, Jr. was shot and killed in Memphis and Robert F. Kennedy was murdered after winning the California Democratic Presidential Primary. Each of these events in themselves would have been traumatic for the country, but the two events coming so quickly together really set the country into turmoil.
In 1969 Richard Nixon was sworn in as the 37th President of the United States. The tragic years of the 60s were behind us, or so we hoped, and people were looking for a brighter future. However, for music fans, that would have to wait as on January 30, The Beatles gave their final public performance. But on the technology side, 1969 was one for firsts. It was the year the first 747 flew and people referred to it as the "double decker" jet. Today, however, we do have a real double decker jet in the A380. Another aeronautic first that year was the first test flight of the Concorde, which ushered in a new, fast – and expensive – way to travel. The commercial flights of the Concorde flew from 1976 until 2003. It is now a part of aviation history.
1969 was the year construction began on Walt Disney World in Orlando, Florida, the final episode of Star Trek aired, The Smothers Brothers Comedy Hour was cancelled but Hee Haw premiered on TV. Woodstock (the music festival not the cute little bird in the Peanuts comics) was held, and the top songs on the radio ranged from "Sugar, Sugar", to "Crimson and Clover", "Hair", "Proud Mary", "Hurt So Bad", "Wedding Bell Blues", "I Heard it Through the Grapevine", "Hooked on a Feeling", "Put a Little Love in Your Heart", "Bad Moon Rising", "Build Me Up Buttercup", and "Aquarius/Let the Sunshine In".
In 1969 opposition to the war in Vietnam was still rising and cities across the country experienced sit-ins, riots, demonstrations, and clashes with police over this heated topic. The Cold War was also escalating between the east and the west. But the United States had some uplifting moments that year as the first humans, Neil Armstrong and Buzz Aldrin, walked on the moon and returned safely to the earth.
On the political pages, Golda Meir became the first female Prime Minister of Israel, Ted Kennedy's car accident at Chappaquiddick all but derailed his future political ambitions, Muammar Gaddafi came to power in Libya, and the Vietnam War escalated. The Manson Family was at their height of killing in Los Angeles.
1969 was also the year Wal-Mart incorporated and people were going to the theaters to see Butch Cassidy and the Sundance Kid staring Paul Newman and Robert Redford. We were also going to watch Easy Rider, True Grit, Hello Dolly, Pippi Longstocking, Goodbye Mr. Chips, Downhill Racer, and Sweet Charity.
The Brady Bunch hit the small screens, and on November 10, 1969, Sesame Street broadcast its first episode. Sesame Street was unique, combining real people with puppets, and also with a curriculum to reach young viewers.
Head Writer (and the man behind 'Murray'), explained, "What I love about the show is, on our research document, it says, the 45th experimental season, and it's been true. I mean, I've been there 23 or 24 years, and every year, we change the show. … The curriculum changes every year. It gets tough as a writer because, when I started and I was writing the letters and the numbers and how to cooperate, I know that stuff, but when it's STEM, (Science, technology, engineering, and math) … it becomes a new challenge for us."
For 45 years they have met that challenge and have managed to keep the show fresh, fun, and fabulous for generations of young viewers. While some characters – human and not – have come and gone, the feel of the show remains the same. It is a comfortable place for viewers and has managed to keep kids interested, educated, and entertained for four and a half decades. That's saying a lot.
Season 45 of Sesame Street begins fall 2014. Happy Birthday and congratulations to everyone at PBS Kids and especially Sesame Street for 45 years of wonderful children's programming. While the world has changed dramatically since its first broadcast in 1969, the goal of the show remains the same. Sesame Street is the place where kids can escape the horrors of the outside world, enjoy some social time with their on-screen friends, be entertained, enlightened, and learn. All of this takes place at the location we have taken to our hearts. Sesame Street.

About the Author
Francine Brokaw has been covering all aspects of the entertainment business for 20 years. She also writes about technology and has been a travel writer for the past 12 years. She has been published in national and international newspapers and magazines as well as Internet websites. She has written her own book, Beyond the Red Carpet: The World of Entertainment Journalists, from Sourced Media Books.
Follow her on Twitter
Like her on Facebook