Sofia the First: The Floating Palace DVD
Category:
Blu-ray's and DVD's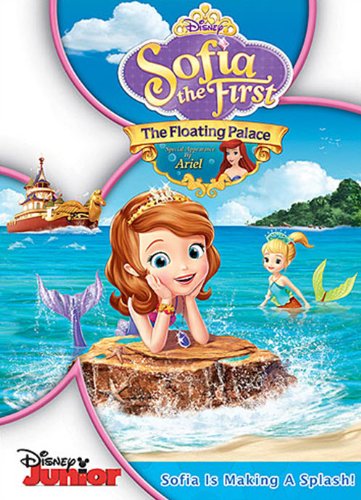 Sofia is Disney's little Princess-in-Training. Sofia the First TV show on Disney Junior is a hit with young viewers. What makes her different from the other "Disney Princesses" is that she became a princess "over night" and she has to learn to live a royal life with her new family. Every once in awhile she is visited by another Disney Princess who helps her when she finds herself in a difficult situation.
Ariel comes to see Sofia in "The Floating Palace." When Sofia and her family take off on a vacation aboard their floating palace – what we would call a gigantic yacht – they get more than just a tranquil visit to Maraway Cove, a secluded cove where King Roland vacationed as a boy.
Sofia's enchanted necklace (the Amulet of Avalor) transforms her into a mermaid when she is in the water. How cool is that? She meets a curious little mermaid named Oona who is a princess too. Her enchanted item is a comb. Now Cedric the Sorcerer sets out to capture Oona and take the comb for its power to take over the kingdom.
Oona's friend is a seahorse named Sven (not to be confused with the snowman of the same name in the movie Frozen). Ariel (reprised by Jodi Benson) comes to help Sofia get her new friend back from the sea monster that took her. Cedric's plan is dashed because Oona's family comes together and the message in this story is – whether mermaid or human, "We're all devoted to our families."
The two worlds collide in an amazing undersea adventure focusing on the love of families. "In sea or air, the love we share" is what makes life worth living.
This DVD contains three other episodes from the popular preschool show. In "The Tri-Kingdom Picnic" three royal families – from Weiling, Kaldune and Enchancia – get together for a day of food and games. It's a day for royal fun under the sun. James is excited because this year he has Sofia as his partner instead of Amber who hates being in the sun and playing those silly games. James is intent on winning the Golden Chalice for the first time. But his sportsmanship is put to the test and he is not a good loser. In the meantime, King Roland decides to have the adults play games this year. What a treat!
In "Finding Clover" Sofia's little rabbit feels left out when her new royal duties keep her from spending time with him. When a magician comes to town Clover decides to join him, leaving Sofia left to wonder what happened to her beloved Clover. She sets out to find him.
And in "Make Way for Miss Nettle," magic is abundant when Sofia, James, and Desmond join the after school gardening club and uncover an evil plot by Miss Nettle, a former apprentice to Flora, Fauna, and Merryweather. Miss Nettle is jealous of their powers and captures the fairies while searching for their spell book. It is up to the kids to save them.
Sofia the First: The Floating Palace is a DVD filled with plenty of magic, royalty, and wonderful stories. The four episodes are enchanting stories from the first season of this very popular show. Sofia is a very popular Disney character and it's easy to know why. She is sweet, loving, and filled with excitement. This is a great DVD that will be played over and over again. It's rated TV-Y for everyone.
About the Author
Francine Brokaw has been covering all aspects of the entertainment business for 20 years. She also writes about technology and has been a travel writer for the past 12 years. She has been published in national and international newspapers and magazines as well as internet websites. She has written her own book, Beyond the Red Carpet The World of Entertainment Journalists, from Sourced Media Books.
Follow her on Twitter
Like her on Facebook