'Thank You, Mister Rogers: Music & Memories' CD GIVEAWAY
Category:
Giveaways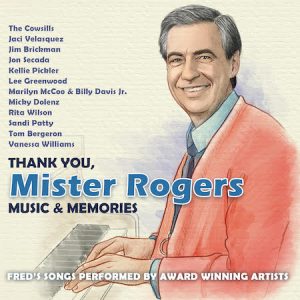 Providing delightful listening for the whole family, Thank You , Mister Rogers: Music & Memories is a CD that embodies unforgettable performances by award-winning artists performing re-imagined renditions of Fred Rogers classics as well as uncovered gems from his 200-plus catalogue of songs. The cast includes Kellie Pickler, Vanessa Williams, Rita Wilson, Lee Greenwood, The Cowsills, Jaci Velasquez, Jim Brickman, Jon Secada, Marilyn McCoo & Billy Davis, Jr., Micky Dolenz, Tom Bergeron, and Sandi Patty.
Actor, songstress Rita Wilson delivers a touching performance of "Sometimes People Are Good," a sentiment also reflected in her husband Tom Hanks' on-screen portrayal of Fred. Wilson aptly observes, "Mister Rogers' melody and lyrics are beautifully integrated together. His words of kindness, acceptance, and peace are a classic message." The album includes some surprises, including Spanish lyrics put to the tune of "Won't You Be My Neighbor," which features a heartfelt performance by Cuban-born pop artist Jon Secada. And TV spokesperson Tom Bergeron, best known for hosting America's Funniest Home Videos and Dancing with the Stars, makes his singing debut with a jazzy rendition of "Some Things I Don't Understand." It's also the first-time audiences will experience his talent as a gifted whistler.
We have some copies to giveaway.
To be eligible to win a copy of Thank You, Mister Rogers, email us at [email protected] with "Mr. Rogers Giveaway" in the title. Please supply your name, address, phone number and email address (so we can let you know if you are a winner).
The deadline for this giveaway is November 15, 2019.